Table of Contents
What size sensor does the S7000 have?
What sort of lens does the S7000 have?
What add-on lenses are available?
How do I attach filters, lens hoods etc to my S7000?
How do I attach filters, lens hoods etc to the end of the the Fujifilm Wide-Angle and Telephoto Lenses?
What sort of polarising filter should I use - a linear or a circular type?
What size filters should I use?
What image size/mode should I shoot in for best quality?
Why should I / shouldn't I shoot in RAW mode?
What conversion programs are available for RAW (.raf) files?
What shutter release cable should I get?
What memory cards does the camera use?
What does it mean when a card is 25x, 40x, 52x etc?
What is the maximum movie length?
How do I get an exposure longer than 15 seconds?
Can the S7000 be used for infrared(IR) photography?
How can I get the lens to focus on infinity? and why would I want to do this?
How can I improve the S7000's low light focusing ability?
What flash works with my S7000?
How can I correct lens distortion?
Is the S7000 firmware upgradeable?
Is there a successor to the S7000?
This is an unofficial FAQ for the Fujifilm S7000 but alot of the information is also relevant to the 4900, 6900, S602, S5000 and S20 Pro. The information in this FAQ has been gathered from personal experience and the excellent discussions and advice on the www.dpreview.com Fujitalk forum at forums.dpreview.com/forums/forum.asp?forum=1012.

The Fujifilm Finepix S7000 is a 6 mega-pixel ("MP") digital camera with 6x optical zoom based on its predecessor the s602. It uses Fujifilm's 4th generation Super CCD HR sensor with 6.3 million effective pixels, delivering 12 million recorded pixels. For more information visit the Fujifilm website: www.fujifilm.com.au/digital/cameras/camera.asp?id=23.
It is NOT a 12MP camera although it will generate 12MP interpolated images in RAW or JPEG formats. The value of interpolating these larger images is subject to much debate amongst the photographic community. At present the consensus is pretty much that the S7000 produces images on par with other 6MP cameras but certainly not the equivalent of a 12MP camera.
What size sensor does the S7000 have?&nbsp[TOP]
Fujifilm's 4th generation Super CCD HR sensor with 6.3 million effective pixels as used in the S7000 is a 1/1.7-inch sensor. The actual CCD is about 7.2mm wide and 5.3mm high. An adult can fit about 2 of these on the fingernail of their smallest finger - this means there are alot of photosites packed into a really small space. This is a common feature of prosumer digital cameras. 8 mega pixel cameras have even more photosites packed into about the same space and reviewers have been commenting about how this is resulting in increased noise and chromatic aberration. Higher resolution is not always better.
What sort of lens does the S7000 have?&nbsp[TOP]
The S7000 has a "Super-EBC Fujinon Lens" with 6x optical zoom. Its actual focal length range is 7.8mm to 46.8mm which is the equivalent to 35mm to 210mm on a 35mm camera.
What add-on lenses are available?&nbsp[TOP]
Fujifilm genuine lenses
| | |
| --- | --- |
| | WL-FX9 Wide Angle Lens - 0.79x magnification. Gives you the equivalent of a 28mm wideangle lens. Also works with 3800, 4900, 6900, S3000, S5000, and S602. (RRP AUS$259.95) |
| | |
| --- | --- |
| | TL-FX9 Tele Lens - 1.5x magnification. Turns your 6x 210mm S7000 lens into the equivalent of a 315mm telephoto lens. Although really meant to work only at full telephoto setting on the S7000, it will also work without vignetting from about 3/4 of full zoom on. Also works with 3800, 4900, 6900, S3000, S5000, and S602. (RRP AUS$229.95) |
| | |
| --- | --- |
| | AR-FX9 Lens Adapter Ring - this adapter ring is required to extend the 55mm threads on the front of the S7000 out far enough to clear the lens when fully extended. The adapter ring comes with the above Fujifilm genuine lenses, but if you do not buy one of those lenses then you will need this adapter to use 55mm filters and other manufacturers lenses. Of course, you can also buy an aftermarket adapter ring as well. The genuine Fujifilm ring is about 38mm long. Any aftermarket ring will need to be at least this long. If any longer you may experience vignetting. (RRP AUS$49.95) |
Olympus lenses
| | |
| --- | --- |
| | WCON-14 Wide Angle Lens - 0.7x magnification. Gives the equivalent of a 24.5mm wide angle lens. Olympus also make a WCON-08 0.8x wide angle which is said to work well with the S7000. Users have also reported that the previous version called a B-28 works well and is available second hand cheaply (~$20 on ebay). |
| | |
| --- | --- |
| | TCON-17 Tele Lens - 1.7x magnification. Turns your 6x 210mm S7000 lens into the equivalent of a 357mm telephoto lens. Although really meant to work only at full telephoto setting, it will also work without vignetting from about 3/4 of full zoom on. Note: This lens used to be called the B-300 until it was re-released by Olympus as the TCON-17. |
TCON-14B - 1.45x magnification. Designed for use with the Olympus E10/20 cameras (like the TCON-300 below). Generally regarded as producing less chromatic aberation than the TCON-17 although with less magnification. Quite a large and heavy add-on lens with a rear thread size of 62mm so an additional step-up ring from 55mm to 62mm is required to use with the Fujifilm 55mm-55mm extension tube. It seems that some users have reported the TCON-14B providing a greater zoom range without vignetting because of the larger rear thread size, although a specific 55-62mm extension tube may be required to get the best results (using the standard tube with the extra length of a step-up ring may remove the advantage of the extra size at the end of the lens by placing it that bit further away from the front of the camera's lens). Comments/links to sample pictures from users of the TCON-14B would be appreciated.
There are some interesting comparison photos at ray.cg.tuwien.ac.at/rft/Photography/Tests/B300-vs-TCON14B/ where the TCON-14B is compared to the B-300 (the predecessor of the TCON-17).
I have no personal experience of the Olympus lenses but a number of owners have made very positive comments on image and build quality. Some have noted a little higher chromatic aberation using the WCON-14 wide angle lens but a slight increase in chromatic aberation is to be expected when using add-on lenses.
In general terms the Olympus lenses are cheaper than the Fujifilm and offer slightly wider angles and slightly more telephoto.
Sony lenses
| | |
| --- | --- |
| | A number of users have rated the Sony VCL-HGD1758 1.7x teleconvertor highly. It has 5 elements in 3 groups. It is usually more expensive than the Fujifilm or Olympus but if you can pick one up cheap may be a good option. It does have a 58mm thread so you will need a step-up ring to go from the 55mm female thread on the end of the 55mm to 55mm Fujifilm lens extension tube. Alternatively, an extension tube is available that goes from 55mm to 58mm - see http://www.b-300.com. www.b-300.com also have some example shots with the Sony VCL-HGD1758 and the quality is impressive - see http://www.b-300.com/compare2.html. |
Raynox lenses
Raynox is a japanese maker of aftermarket lenses for digital video and still cameras. They have a quite extensive range that are compatible with the S7000 - from 180o fisheye lenses through to a 2.2 times teleconvertor - see www.raynox.co.jp.
I have purchased the DCR-2020PRO 2.2x teleconvertor and so far have been impressed - for more information see www.gky.com.au/c/gky?a=sp&did=19000000&pid=1095156946. Time permitting I will be stacking this lens on the front of my TL-FX9 which should in theory provide 3.3x magnification for a total focal length of 693mm. I will publish test pics as soon as I have them.
Other lenses
There are a plethora of other add-on lens manufacturers and the general consensus seems to be that they should be avoided. Promises of greater magnification or wider wide angle at substantially less cost need to be treated with healthy sceptism, especially when made off ebay. If in doubt, take your camera down the photo store and try the lens in question before buying it. Most comments from people that have tried other lenses can be summed best by this post:
"...It has significant chromatic aberration, has noticeable vignetting, and produces an unacceptably soft image." [when commenting about a 2x add-on lens at forums.dpreview.com/forums/read.asp?forum=1012&message=6985748.
Lens comparison shots
Stacking lenses
David Stanton has put together a Fujifilm TL-FX9 and an Olympus TCON-17 by gluing a 55mm adapter ring into the front of the TL-FX9 and then screwing in the TCON-17. Produces a total magnification of 1.5 x 1.7 = 2.55 times. See pictures of David's setup and sample shots using the rig at www.mis.net.au/stanton/images/Full_zoom_plus_TL_FX9_AND_TCON_17.jpg. The pics show quite a bit of chromatic aberation which could be removed through clever use of Helmut Dersch's Panorama Tools - see Brian Caldwell's tutorial on "Correcting Distortion and Color Fringing" at www.caldwellphotographic.com/TutorialsDistortionAndColorFringing.html.
Geoffrey Winterman has stacked a TCON-300 and B-300/TCON-17 (the TCON-300 has filter threads in the front to which you can screw the B300/TCON-17) see - www.pbase.com/geoffw/test_shots&page=all. Geoffrey does not say whether he needed a step down/up ring for the front of the TCON-300. I think the front threads might be 49mm.
You can also stack the TCON-14B on the end of the TCON-300 - see www.wrotniak.net/photo/e10/tcon-300.html.
The guys at www.b-300.com have some sample shots of stacking a B-300 (TCON-17) with the Sony VCL-HGD1758 - see www.b-300.com/Stacking-1.html.
For those interested in stacking a TCON-14B and Sony VCL-HGD1758 see www.cs.mtu.edu/~shene/DigiCam/User-Guide/FZ-10/Converters/Lenses/Stacking-Lenses.html.
You can also try unusual things like stacking a TCON-17 with a macro lense to get higher magnification out of your macro lenses. See for example www.b-300.com/Stacking-3.html. Indeed, the Raynox DCR-250 macro lens fits nicely on the front of the TL-FX9 for exceptional macrophotography magnification.
Set-Up > Adapter > Yes/No ?
Set the "Adapter" setting under the "SET" menu to "YES" if you have an add on lens attached to the camera or a large lens hood that may block the IR focus sensor that sits at the top of the camera (just above the lens barrel infront of the pop-up flash). If you only have the adapter tube attached and a filter etc. you can leave this set to "NO". In any event, there does not seem to be a noticeable difference in focusing speed or accuracy with either setting. A number of users simply leave the adapter option set to "YES".
Chromatic abberration with add-on lenses
I have written a separate article giving a correction parameter for use with Helmut Dersch's Panotools to remove the chromatic abberration experienced when using the S7000 + WX-9 combination at full wide angle - see S7000 + WX-9 Chromatic Aberration
Camera bags that fit S7000 with add-on lens attached
Hama Trackpack 05 Holster SLR Camera Case
M-Rock High Sierra
LowePro Topload Zoom Mini
LowePro Topload Zoom 1
Lowepro Nova 2 AW
Tamrac 5683 Digital Zoom 3 Bag
Haldex HPLC16T
More info
Try the forums. Steve's Digicams even has a specific section dedicated to add on lens discussions - www.stevesforums.com/forums/view_forum.php?id=50.
See this website for a comparison between the TCON-14B, TCON-17 and Sony VCL-HGD1758 - www.pbase.com/liman/vclhg1758.
How do I attach filters, lens hoods etc to my S7000?&nbsp[TOP]
You will need the 55mm to 55mm extension tube - either the genuine Fujifilm or a generic extension tube. For reference, the genuine Fujifilm extension tube is about 38mm long. Any shorter than this and you will run the risk of the lens hitting whatever you put on the end when it extends.
Stacking filters
You can usually stack two normal width filters on the end of the 55mm-55mm extension tube before you will experience vignetting at the lens' full wide angle setting.
How do I attach filters, lens hoods etc to the end of the the Fujifilm Wide-Angle and Telephoto Lenses?&nbsp[TOP]
The Fujifilm WX9 and FX9 do not have threads on the end. However, using the right sized adapter rings and epoxy resin you can add your own threads. This excellent article describes how - www.camerashed.co.uk/project6.asp.
What sort of polarising filter should I use - a linear or a circular type?&nbsp[TOP]
You can use either type with the S7000. The circular type is usually more expensive and slightly less effective than the linear type.
Only cameras with split beam focusing systems need a circular polariser to autofocus properly and the S7000 is not one of these. However, most camera stores will tell you that you need a circular polarising filter.
Having said all of that, the Hoya 55mm HMC Circular-Polarizer is extremely popular because of the multicoating which dramatically reduces the amount of light that is reflected from the filter, resulting in more light through to the lens.
When using a polariser, it can often be difficult to see the effect that rotating the polariser has. A good tip is to frame your scene, half depress the shutter button (which locks the exposure) and then turn the filter. On the S7000 you can also you use the AE-L (exposure lock) button. With the exposure locked, you can see the changes that turning the filter makes without the camera correcting exposure. Once you have the desired effect, make sure you releaes the shutter button or exposure lock before taking the picture, otherwise your exposure may be out.
What size filters should I use?&nbsp[TOP]
55mm (or larger). If you use smaller than 55mm then you run the risk of vignetting at some wide-angle settings. Larger filters are always OK, but you will need to purchase the appropriate step-up rings to go from 55mm to your filter size. This is a good option if you already have a collection of filters that are 55mm+. If you are buying filters, then buy them in 55mm. You can buy larger but they will be more expensive (and require the additional cost of the step-up ring).
What image size/mode should I shoot in for best quality?&nbsp[TOP]
Shooting in 12MP RAW mode is theoretically best but you will have to use a RAW convertor to create a standard TIFF or JPEG image from all of that raw data.
Without shooting in RAW format, the general consensus is that 12MP fine JPEG mode with "soft" sharpening is the next best thing.
The 6MP modes seem to have too much compression applied to them and so their is loss of quality due to the high compression being applied in-camera. Having said that, a number of S7000 users shoot in the 6MP mode because their is not a huge difference in quality and the 6MP files are smaller so are quicker to manipulate in camera and afterwards.
Why should I / shouldn't I shoot in RAW mode?&nbsp[TOP]
For a really interesting, non-technical discussion of this question see blog.eosdigitalrebel.com/blog/_archives/2004/1/9/12757.html .
What conversion programs are available for RAW (.raf) files?&nbsp[TOP]
The finepixviewer software that comes with the camera can convert .raf files into TIFF files but gives the user no ability to manipulate image parameters. Universally described as "a real waste of the RAW mode".
There are a number of programs other than the one supplied with the camera.
Free
rawgem RAW file converter - free convertor by Pierre Labreche. Features include: Eliminates Chromatic Aberration; Calibrated colors; Filters Noise (user-selectable); User-defined output image size (1 to 12 Megapixels); Automatic levels; Automatic White Balance. Download from www3.sympatico.ca/pierre.labreche/RawGemPage/RawGem.htm
s7raw - www.geocities.co.jp/SiliconValley-PaloAlto/9919/s7raw.html - another free convertor with a good user interface which supports RAW FILEs made by S7000 and S5000; output files of 16bit or 8bit PSD and TIFF or JPEG formats with EXIF; change white balance of the image; rotate the image to right or left; adjust the parameters of gamma, brightness, contrast, saturation and hue; "Selective Colors Adjustment" has been implemented; harden or soften the sharpness; display the histgram, and magnify the image; batch job facility; save and load decode parameters; display embedded preview pictures on "file open" and "batch job" dialogs; correction of distortion, chromatic aberration, vignetting.
Ian McInnes has produced an excellent and comprehensive comparison of 4 free raw convertors for fujifilm raw files in .pdf format available here: www.whisper-wood.co.uk/FujiRawConv.pdf (be warned - it's a 10MB download for those on slow connections).
Not-free
Photoshop CS comes with a RAW convertor plugin which some users like.
What batteries should I use?&nbsp[TOP]
At least two sets (2 x 4) AA nickel metal-hydride (NiMH) batteries are essential along with a good charger. Alkaline batteries will do at a pinch, but they do not last very long and are expensive.
NiMH AA cells are available in capacities up to around 2400mAH. Choose name brand cells with 2000+mAH capacities for best results.
Phil Askey in his S7000 review reported getting 445 shots from a set of 1600mAH GP NiMH batteries (see www.dpreview.com/reviews/fujifilms7000/page9.asp). Phil's battery life test uses a combination of shots with and without flash and probably gives a fairly good indication of real-world performance.
NiMH batteries do have a finite life, with the better cells still retaining about 80% capacity after 300 charges. Although some manufacturers claim that their cells can withstand 1000 charging cycles, most people enjoy less than 500 charging cycles before the batteries' capacities are seriously degraded.
NiMH batteries also naturally discharge over time. Their natural discharge rates are much higher than Nicad or alkaline batteries. For this reason, before you head out on that big photo expedition, always:
make sure your batteries are freshly charged; and
pack an emergency set of alkaline batteries - the better ones will keep for up to 5 years in your camera bag.
What shutter release cable should I get?&nbsp[TOP]
You can use any standard shutter release cable with the S7000. The best ones provide a smooth release action. The best advice is to take you S7000 to the camera store and try a bunch of them until you find one at a price you like.
What memory cards does the camera use?&nbsp[TOP]
The S7000 has two memory card slots - one for xD cards and one for compact flash ("CF") cards. The camera takes both Type I and Type II cards. Type II CF cards are thicker and most commonly of the microdrive type or high capacity flash rom cards (eg 4GB).
The S7000 only supports FAT16 which means that the maximum capacity xD or CF card it can use is 2GB. Higher capacity cards can be used but in theory the extra capacity beyond 2GB is not accessible to the camera (as a consequence of formatting the cards using FAT16). I say in theory because it has been reported by some industrious individuals that it is possible to use all of the space on >2GB cards by formatting them with a 64k cluster size. For more information see forums.dpreview.com/forums/read.asp?forum=1012&message=12057746.
Early S7000 models had an incompatability with certain compact flash cards that resulted in battery drain even when the camera was turned off. All cameras produced in 2004 do not have this problem. The problem did not occur with all compact flash cards. The official word from Fujifilm in the UK was that "cameras with serial numbers above 34L60001 (inclusive) were produced after 15 December 2003 and therefore will definitely not experience this battery drain problem".
An interesting feature of xD cards is that because of their small size, it is possible to get an xD to compact flash adapter. You can then use your xD cards with other devices that only accept CF cards.
Movie recording and card speed
The S7000 has the ability to record VGA (640x480) quality movies until your memory card is full.
However, it seems that with some slow CF cards, movie recording may stop prematurely. This is probably due to the camera not being able to write to the card fast enough.
Which cards work in the S7000/S602z?
There is an excellent compact flash database (primarily for the S602Z but also with entries for the S7000 - and the cameras are very similar anyway) at www.propassion.nl/finepix/.
What's faster: CF or xD?&nbsp[TOP]
Picture taking performance
CF cards of at least 25x speed and xD cards perform at about the same speed. I have tested the time it takes for the camera to write images from its buffer to both types of cards using a stopwatch and the times for CD and xD are so close together as to be all but identical allowing for the variations in the timing methods.
Interestingly, the camera takes about the same amount of time to write 5 images to either card type where the image size is 1M, 2M, 3M, or 6M. Even 12M normal images do not take that much longer. With 12M fine write times are about 50% longer than with any of the other smaller formats. This suggests that a significant part of the "storing" time may be camera processing time.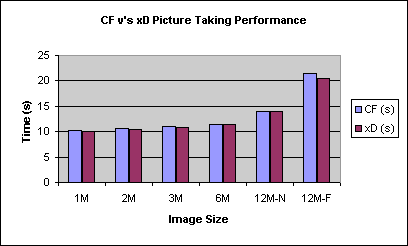 Download performance
I have benchmarked CF and xD cards in camera using Atto Windows Disk Benchmark 2.02 and the camera's USB 2.0 interface with the following results:
| | | | |
| --- | --- | --- | --- |
| Card | Type | Max. Write | Max. Read |
| 16MB Fujifilm xD card | xD | 1.0MB/s | 4.0MB/s |
| 16MB Canon CF card | CF | 0.7MB/s | 1.5MB/s |
| 512MB PQI High Speed (25x) CF card | CF | 1.23MB/s | 1.6MB/s |
| 512MB Legend 52x CF card | CF | 1.33MB/s | 1.7MB/s |
| 2.2GB Magicstor type II CF microdrive | CF | 1.34MB/s | 1.34MB/s |
As you can see from these results, the xD cards certainly have a fast read speed (more than twice as fast as CF cards in the S7000). They also feel faster in the camera when reviewing images. However, they are significantly more expensive and at present are not available in the high capacities of CF cards.
What does it mean when a card is 25x, 40x, 52x etc?&nbsp[TOP]
The speed of memory cards is described in terms of CD-ROM read speeds. A 1x (pronounced "one times") CD-ROM was capable of reading data at 150Kb/s - the same data rate as a CD audio player could read data off a music CD.
When a manufacturer describes their card as a 52x card, they mean it can be read from at 52 x 150KB/s (about 7.8MB/s).
Often cards will have different read and write speeds, although many manufacturers do not give read and write figures. For example, the 512MB 25x PQI card referred to about has a read speed of about 5000KB/s (33x) and a write speed of about 2500KB/s (16x). The manufacturer uses the weighted average of these figures to arrive at a speed rating of 25x.
Microdrives&nbsp[TOP]
Microdrives are little hard drives. As such, they are electro-mechanical devices. In theory, they are less reliable than solid state devices (no moving parts) like compact flash cards. In practice, microdrives provide large storage at low cost. They are however, slower than solid state CF cards - although they are plenty fast enough for unlimited video recording at 30fps 640x480. Having said that, there is a note in the S7000 manual that indicates that after extended use the microdrive may get too hot and will need some time to cool down. There are two main brands:
the Hitachi (formerly IBM) microdrives in 340MB, 1GB, 2GB, 4GB and 6GB capacities; and
the Magicstor microdrives in 2.2GB and 4.4GB capacities.
The price of the Magicstor 2.2GB microdrives is attactive (less than AUS$300) compared to AUS$600+ for a 2GB CF card. They are usually less than the Hitachi equivalents although some users have thought them to be unreliable. Note: although 2.2GB in capacity, once formatted for the S7000 using FAT16, the usable space will be a little less than 2GB.
Seagate has also recently announced that it is producing 5GB microdrives, but at present these only seem to be available to OEMs for inclusion in devices like MP3 players.
What is the maximum movie length?&nbsp[TOP]
The S7000 can record video at 640 x 480 30fps until your memory card is full. Video recorded at this rate consumes about 1.13MB per second. The camera's maximum memory card capacity is 2GB, so in theory you could record almost 30 minutes of video at full resolution. I say "in theory" because a fully charged set of 2300mAH NiMH batteries will probably not be able to power the camera for 30 minutes of continous video shooting. To do this, see the Projects section below and build yourself an external battery pack!
How do I get an exposure longer than 15 seconds?&nbsp[TOP]
The S7000 supports a multiple exposure mode that allows you to expose the one "frame" multiple times - when in record mode, press the MENU/OK button to bring up the menu, scroll through to the "MULTI-EXPOSURE" option and select "ON" - see page 64 of the manual for a more detailed explaination.
Can the S7000 be used for infrared(IR) photography?&nbsp[TOP]
Yes!
Certainly, the S7000 works particularly well with the Hoya R72 infrared filter. Remember though, all digital cameras have IR filters that minimise the CCD's sensitivity to IR radiation. This means that without removing the camera's internal IR filter, IR shots will require long exposure times.
If you are concerned about the sensitivity or otherwise of any digital camera, you can do a quick check by viewing the front of a TV remote control either through the camera's EVF or LCD screen and seeing if you can see the IR LED on the remote control flashing. If you can, then your camera is sensitive to IR light and should work with R72 type filters.
The R72 filter is for near-infrared to infrared meaning that it allows a little bit of visible light through (however, the visible light that passes does not take away from the IR effect). There are other filters available that only allow light through in the infrared spectrum such as the Hoya RM90 infrared filter. These filters are seriously expensive (eg ~AUS$400 in 55mm diameter). It would be great to hear from anyone that has experience with using such filters with the S7000.
Focus shift
The wavelengths of light used for IR photography are longer than the wavelengths of visible light. As a result, IR light is focused by your camera lens at a different point to visible light. This results in a "focus shift" when shooting in the IR wavelengths. The focus is shifted so that you have to focus closer than you normally would for visible light photography.
Top 3 IR photography tips
use a tripod - IR photography with digital cameras generally requires long exposure times (eg. in the range of seconds);
focus closer that you normally would because of the IR focus shift;
choose a small aperture to compensate for focusing difficulties associated with focus shift (although this will also make your exposure time longer as well).
CCD IR filter removal
Some hardcore digital IR photographers have removed the IR filters from their cameras to increase shutter speed when shooting IR (typically an IR shot on a bright sunny day will have an exposure time of seconds and not hundreds of a second). JKirk has confirmed that removal of the IR filter on the S7000 is the same as on the s602z - see this picture of the CCD from JKirk - www.pbase.com/image/23936668. The IR filter is bonded to the CCD and can be removed and replaced with an exact glass cover. Indeed, JKirk even knows of some guys that have had the absorbtion/diffraction characteristics of the glass matched. Of course, once the IR filter is removed the camera will not be useful for normal photography either.
Sojourner on dpreview has a great post documenting the removal of the IR filter from a Fujifilm 3800 camera. This procedure, although different in the detail to the S7000 procedure, will give you some idea of what is involved in doing this to a camera - see forums.dpreview.com/forums/read.asp?forum=1012&message=10005831. Sojourner has also posted some example pictures that he was able to take hand-held even with a Hoya 90 deep IR filter. He also said that 1/400s shots were possible with the Hoya 72 in bright sunlight.
More info on IR photography
For more information on IR photography in general see Clive Warren's Infrared Photography FAQ at www.cocam.co.uk/CoCamWS/Infrared/INFRARED.HTM or for information specifically tailored to digital IR photography see Jeremy McCreary's page at dpfwiw.com/ir.htm. Andrzej Wrotniak also has some great information on using the Hoya R72 filter with an Olympus E10 and E20 - see www.wrotniak.net/photo/infrared/. Chris Maher and Larry Berman also have an excellent IR site with lots of information about shooting IR with digital cameras and also a number of fantastic galleries of their own IR images - see infrareddreams.com.
Macrophotography&nbsp[TOP]
The S7000 has excellent macro and super-macro settings. In macro mode the focal range is from ~10cm to ~80cm. In super-macro the range is ~1cm to ~20cm.
In macro mode at 10cm full wide angle the camera will capture a frame about 11cm x 9cm. The depth of field at f2.8 will be only about 0.7cm. At f8.0 it will be about 1.7cm. This means that if you are 10cm away from an object, in macro mode, with the lens in its full wide angle setting (not zoomed in at all) and an f-stop of f8.0, things from about 9.2cm to 10.7cm away will be in sharp focus.
If you are interested in calculating depth of field for other aperture and focal length combinations, check out Don Fleming's online depth of field calculator at dfleming.ameranet.com/dofjs.html. When using Don's calculator, always use the actual lens focal length in mm and not its equivalent in 35mm terms.
How can I get the lens to focus on infinity? and why would I want to do this?&nbsp[TOP]
The steps are a little convoluted:
Select the zoom position / focal length that you will be using for your shots at infinity focus (this is important as zooming on the S7000 requires refocusing the lens system);
Put lens cap on;
Set Photography Dial to SP;
Select Landscape Mode;
Set the Focus Mode switch to MF;
Press Quick Focus button;
The camera is now manually focused on "infinity". You can now take the lens cap off and change the Photography Dial to whatever setting you want to use for your photos.
The infinity focus will remain until you either exit manual focus, enter play mode or turn the camera off.
Why can't I simply change to manual focus and keep turning the manual focus dial?
The camera is capable of focusing beyond infinity.
Why do I want to focus on infinity?
Infinity focus is great for landscapes and also fast moving objects that are within the infinity focus range (remember, depending in aperture and amount of zoom, infinity can start 10-15 metres from the camera).
How can I improve the S7000's low light focusing ability?&nbsp[TOP]
There are two ways:
use a torch or led light to provide supplementary illumination of your subject to get focus lock. Turn your light source off before taking the picture;
switch to movie mode, half press the shutter to get focus lock, switch to manual focus and any non-movie picture taking mode to take your picture.
What flash works with my S7000?&nbsp[TOP]
S7000 users have reported success with the following flash units:
Metz 32MZ-(1,2 and 3), 36C2, 40 CT-1*, 45 CT-4* 45 CL-4* www.metz.de/en/photo_electronics/flashlights_digital.140.html ;
*with the centre contact sync coil cord
Vivitar 215, 283, 285, 2800 - www.vivitar.com/Products/Flashes/flash.html;
Jessops 280ABZ;
Phoenix D79-BZS - www.pcaol.com/directory.cfm?CategoryID=7 ;
Promaster 5700 or 5950 - www.promaster.com ;
Sunpak 383 Super, Auto 144PC, Auto 555, 611 - www.tocad.com/flash.html ;
Achiever 828 - www.achiever.com.hk/flash/flash.html ;
Yashica c240auto.
More information
Fujifilm camera projects&nbsp[TOP]
There is an excellent site maintained by a 6900 owner Matthew Arnold that has some great projects for the 6900 / 602 / 7000 / s20 range of cameras including external battery packs etc. See www.camerashed.co.uk/default.asp.
How can I correct lens distortion?&nbsp[TOP]
The S7000 (and S602, 4900 and 6900) all use the same lens system which shows some barrel distortion at full wide angle and pincushion distortion at telephoto. This can be removed through processing images with Helmut Dersch's Panorama Tools. Determining the right correction parameters can be difficult and time consuming. However, thanks to Thomas Niemann of epaperpress.com we now have a program "PTLens" that includes all of the profiles Panorama Tools needs to properly correct your S7000 images from lens distortion. To read more about PTLens and to download it go to epaperpress.com/ptlens/index.html.
Is the S7000 firmware upgradeable?&nbsp[TOP]
Yes - although Fujifilm have not released any firmware upgrades for the camera.
S7000 History&nbsp[TOP]
The S7000 is the fourth camera in a series of cameras from Fujifilm that dates back to August 2000.
Fujifilm FinePix 4900 Zoom: August 2000
Fujifilm FinePix 6900 Zoom: March 2001
Fujifilm FinePix S602 Zoom: January 2002
Fujifilm FinePix S7000 Zoom: July 2003
Fujifilm FinePix S20Pro: February 2004
All of these cameras use essentially the same body and lens.
S7000 noise reduction&nbsp[TOP]
Image noise has been described as the "achilles heel" of the S7000. There are a variety of ways through post processing to reduce or almost completely eliminate it:
Reviews&nbsp[TOP]
In no particular order:
Is there a successor to the S7000?&nbsp[TOP]
Fujifilm have announced a successor to the S7000. Its called either the S9000 or S9500 depending on what country you are in. It features some interesting specifications like a 9MP sensor and manually linked 10.7x zoom lens with a 35mm equivalent of 28mm to 300mm. It uses a new 5th generation SuperCCD sensor. Everyone is hopeful that this new sensor will give the same sensational high ISO/low light performance that the F10 has demonstrated. More information is available from the Fujifilm website at www.fujifilm.com/JSP/fuji/epartners/digitalS9000Overview.jsp.
A quick scan of the forums shows that alot of users are disappointed in that the camera:
does not feature any form of image stabilisation;
does not support add on lenses;
may have higher noise than the F10 because the sensor is the same physical size as the F7000 but packs in 50% more photosites;
does not have a higher resolution EVF - its still a 235,000 pixel EVF like the S7000 which is not really enough to properly determine focus when using manual focusing;
a much slower burst mode than the S7000 at only 1.5 frames per second.
However, no firm conclusions can be drawn on the new S9000 until people have them and start taking shots. If image quality is truly exceptional then Fujifilm may be onto a winner. At present, the sample images from Fujifilm seem less than impressive, so we'll just have to wait until the reviews come out and the cameras hit the streets.
Other resources&nbsp[TOP]
Utilities
These utilities are not S7000 specific:
DCEnhancer - might give that "flat" image a little more "pop". Quote from the developer "does the hard job of noise reducing and automatic balance control for you... The program works best if you have bad light condition (indoor, shadows etc..) and your image is somehow off." - download it from www.mediachance.com/digicam/enhancer.htm.