This is a relatively light cross country frame with 4 inches of rear travel (about 100mm) using a Horst link (pivots on the chainstays).
The frame was also sold in the USA by Azonic as the Azonic Propulsion.
Frame weight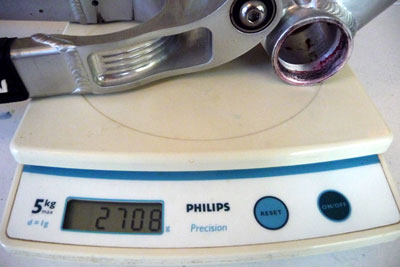 The frame in the pictured configuration is an XS (extra small) with a 15.5" seat tube and Manitou QRL shock. Total weight is 2708g. Weight without shock is 2409g.
Manitou QRL shock weight with mounting hardware is 299g. Shock bolts weigh 46g.
Shock specifications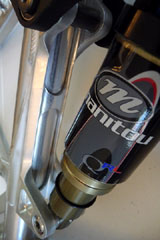 The shock specifications are as follows:
| | |
| --- | --- |
| Item | Length |
| Eye-to-eye | 165mm (6.5") |
| Stroke | 38mm (1.5") |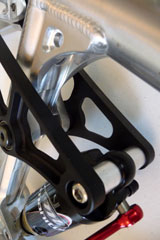 The shock features adjustable rebound via the large blue adjuster at the top of the air can and a compression lockout via the red lever.
Construction
The frame welds look good and a lot of CNC machining has gone into things like the shock mount and pivot (which is one piece), the rear dropouts and the chainstay yoke.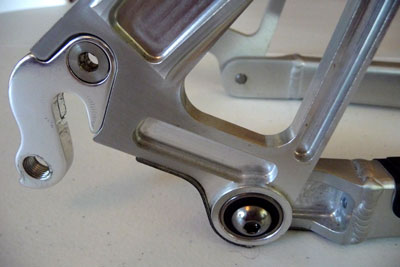 Chain stay yoke: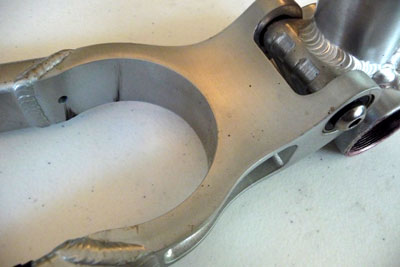 Chain stay yoke - side view showing extensive internal machining to reduce weight: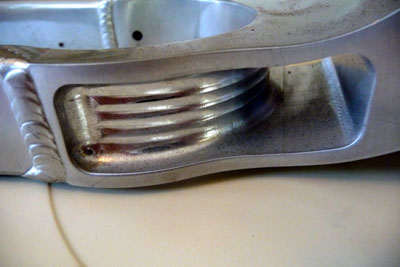 All of the suspension pivot points feature sealed cartridge bearings. The suspension moves amazingly freely (with the shock removed). There is no binding or tightness at any part of the travel indicating that the manufacturing tolerances are tight.
Extra machining around lower-pivot/bottom bracket area: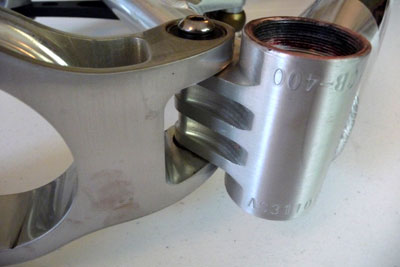 What's the ride like?
The ride is classic Horst-link. The rear shock does not have a platform so the rear is fully active at all times. This may not be the most efficient setup but it makes for an amazingly plush ride. The rear suspension hooks up very well on the nastiest and rockiest climbs. It climbs very much like a friend's Turner Burner (and indeed there are many similarities in design, if not execution).
The frame feels very stiff. There is no doubt that for an XC frame, Xtension have erred on the side of caution and the Xpilot is verging on being over-built.