This is what AUD$260 delivered from Chain Reaction Cycles gets you - a 13kg full suspension kids bike: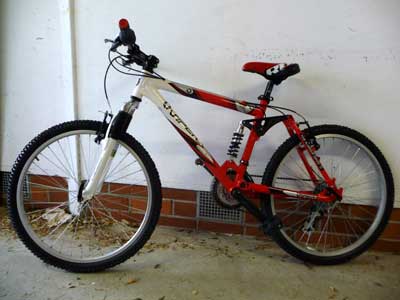 I'm hoping this bike will form the basis for a great kids bike and with some upgrades along the way hope to see the weight in the 10-11kg range.
Suspension
For a sub $300 FS bike I wasn't expecting much from the suspension but I have been pleasantly surprised. The suspension is a fairly standard 4 bar link setup with coil shock and Suntour fork on the front. Spring rates are amazingly good for a 30kg junior rider. The suspension not only works, it works surprisingly well. What is crap (but to be expected at this price point) is that the forks and shock are heavy and offer no adjustment.
Rear travel is around 70mm and front travel seems to be around 50mm.
The Suntour front fork has a long axle to crown distance so the front of the frame seems like it is quite jacked up. The axle to crown distance on this 24" 50mm fork is only about 20mm less than the axle to crown on a Fox F100RL 26" fork. This is probably just a 26" fork with the bosses welded 1" lower. The fork is also quite heavy at 2079g.
I'll be swapping the forks for a set of Rockshox Mag21's with about 60mm travel. I just need to finish machining up the brake boss adapters. This should drop about 600g. I'll also be swapping out the rear shock for a Fox RP3 that I currently have spare. The stock coil shock weights 410g and the Fox RP3 comes in at 209g, so a further 200g weight saving there. The rear shock is 165mm eye to eye and 38mm stroke. This is the same as the shocks on Giant ATX and Anthem X frames. Putting air sprung forks and shocks on should give me plenty of adjustability to get things nicely dialed in.
Drivetrain
I've ditched the stock cranks in favour of a set of Sugino 152mm triple cranks. For this setup I did not need the 50t big ring, so I reconfigured it for a double chainring. This makes it plenty fast enough for junior riders and removing the big ring saves another 112g. Total weight loss by replacing the cranks was 342g.
I also replaced the Tourney rear derailleur (370g) with an old XT rear derailleur (240g).
I was thinking about swapping out the 7 speed cluster but it looks like it is the type with integrated free-hub (screw on type), so I'd need to lace a new hub on the rear wheel to be able to get any serious weight savings going there.
Pedals: stock items are plastic and heavy - 314g for the set. Wellgo make some nice aluminium pedals (M111) that are less than US$20 on ebay and weigh a claimed 240g (maybe lighter if this weight includes the reflectors). These pedals look nice and rounded on the outside - something to consider for safety's sake on a kids bike.
Wheels and Tyres
The stock Maxxis 24 x 1.75 tyres are heavy at 730g each. The tread pattern doesn't look too single track worthy so I replaced them with a set of Continental Explorer 24 x 1.75 (650g each). The Conti's are not exactly a lightweight tyre but the grip offroad is great, they have good strong sidewalls and seem fairly puncture resistant. The price is also right at around AUS$13 each at chainreactioncycles .
The ultimate tyres in the 24" size seem to be the Schwalbe Moe Joes. The weight is reported to be 330g per tyre, so by replacing both tyres and using light tubes you could save almost 1kg in weight - and rotating weight at that! These tyres are definitely a possible future upgrade option although they are seriously expensive at around US$60 each.
Cockpit
The stock 27.8mm seatpost weighs 326g and the seat another 321g. Swapping these out for a spare 27.2 seatpost (240g) using a "coke-can" shim and a Fizik Tundra saddle (257g) shaved off another 150g.
The standard stem was also a little long for my daugther (207g), so I replaced it with a 50mm AM stem that I had (160g). It is surprisingly difficult to get a short stem that is light. All the short stems seem to be over-built for freeride/downhill use. The guys at carboncycles.cc seem to have reasonably priced light stems. I haven't bought anything from them so don't know what they are like to deal with or what the quality is like.
I haven't got around to weighing the bars but they are probably heavy items, so possibly around the 300g mark. There's a good 150g of weight to be saved here.
The bottom line
If you've got some decent parts lying around its possible to get this bike down to about 10.5kg or about 23lbs. That's not bad for a full suspension kids MTB. If you had to buy all of the bits new it would probably be a fairly expensive exercise, although still probably less than buying something like a Scott Scale RC Junior (which would probably be well over $1000 - maybe over $1500 here downunder).
Where its at
Current weight is 11.5kg (about 25 pounds) but I've got a Fox RP3 rear shock to go on (some custom bushings needed) which will lose about 200g and once the current tyres are worn out I'll get a set of Schwalbe Moe Joes which with some lighter tubes may lose another 600g. So that may get it down to around 10.7kg.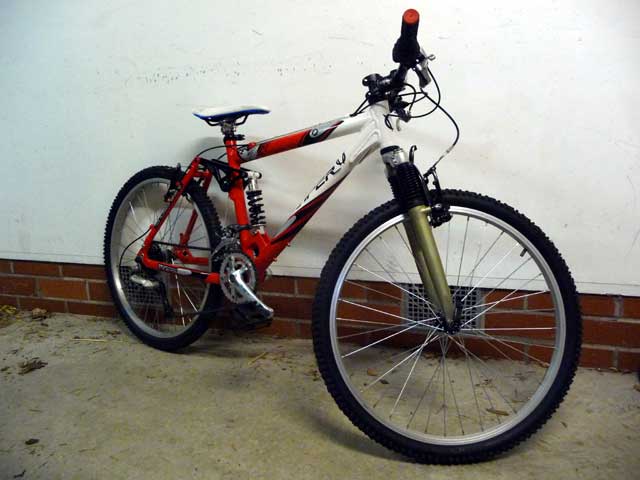 | | |
| --- | --- |
| I've been really fortunate to have a whole bunch of parts that I could use, so the total expenditure to get it to 11.5kg has been: | |
| | |
| --- | --- |
| Total Expenditure (AUS $) | $490.00 |
| Bike | $260.00 |
| Crankset | $110.00 |
| Seatpost | $35.00 |
| Tyres | $26.00 |
| Handlebars | $25.00 |
| Stem | $35.00 |
| Quick Release | $4.00 |
Latest updates - 24/6/2010
Replaced the very heavy steel bars (388g) with some AUD$25 aluminium bars from carboncycles.cc (176g) for a neat 210g saving;
Replaced the no-name 50mm stem (160g) with a carboncycles.cc Meta F Stem in 60mm 6 deg rise (108g);
Swapped out the quick release seatclamp for a AUD$4 bolt version which saved 37g;
Replaced the shimano twist shifters with Deore XT 8 spd shifter pods (suprisingly the Deore XT shifters added 32g) but the Shimano twist shifters were really hard for my daughter to use so they had to go.
Total weight loss to date is 1819g. Bike ready to ride is now 11.2kg.
Latest updates - 30/6/2010
Fitted the Moe Joes. One weighed 407g and the other 425g. Claimed weight on the box is 420g. Not quite as light as what some people have said (around 330g) but maybe the ones I got are larger. These are 24 x 1.85. Saved over 600g from over the stock tyres. Definitely the cheapest way to save 600g. They were AUD$42 each from Chain Reaction.
Finally got around to making some bushings to fit my spare Fox RP3. The frame takes a 165mm x 38mm stroke shock. Same as on many Giant and Turner full suspension frames. If you don't have one I've seen any number of Float R's sold for between $50 and $100. Saves 210g on the shock, but replacing the heavy steel bushes from the original shock mounting hardware saves another 15g.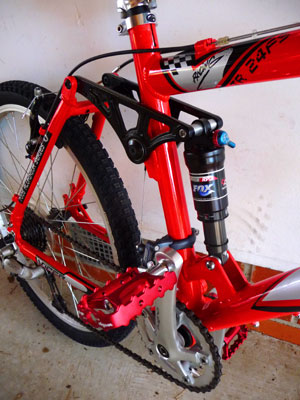 Swapped the el-cheapo no grip plastic pedals for some Wellgo M111's. Saved another 82g in the process.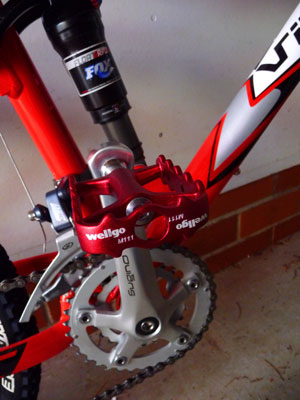 Total weight loss to date is now 2582g. Bike ready to ride is now a touch under 10.5kg.
| | |
| --- | --- |
| Total Expenditure (AUS $) | $589.00 |
| Bike | $260.00 |
| Crankset | $110.00 |
| Seatpost | $35.00 |
| Tyres | $85.00 |
| Handlebars | $25.00 |
| Stem | $35.00 |
| Quick Release | $4.00 |
| Pedals | $35.00 |
I wanted to stick to a AUD$500 budget but I couldn't resist getting a set of Moe Joes. At the end of the day, my daughter has finished up with a bike she absolutely loves to ride. It is relatively light but also really functional. The suspension works really well for her weight, the tyres provide great hook-up and the gear range is ideal for the single track where we ride and the bike path cruise to get there.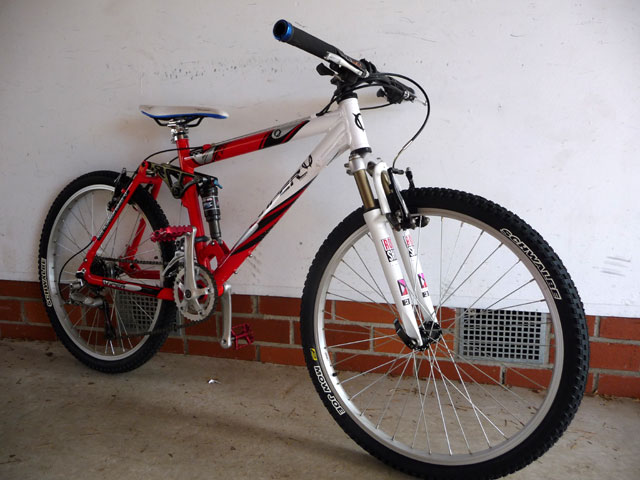 Latest updates - 9/11/2010
Had a new rear wheel built so I could use a cassette rear cluster instead of the uber-heavy freewheel. This allowed us to run a 9 speed 11-34 cassette which gave a much wider range of gears than the original 14-28 cluster. This meant that I could change the bike to 1x9 and still retain the same gear range as with the previous double ring front setup which had been working really well.
Net result was about another 300g lost.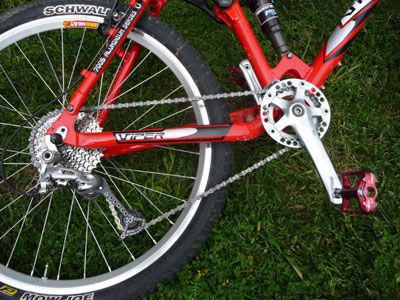 What else is available?
Good kids bikes are a very rare thing. Scott make some nice hardtail and full suspension bikes, but the cost in Australia is extremely high. I'm not even sure that you can buy the Scott Spark RC JR 24 in Australia but the cheapest I could find it online was $1230 (discounted from $1700!!!) plus $158 delivery from Evans Cycles. By the time you pay import duty on it you're looking at around $1600-$1700 for a kids bike with a claimed weight of 24.82lb (11.2kg). Even the budget Scott Spark JR is $700.
With that in mind, if you can get a good, cheap bike as a starting point and if you've got some spare parts you can re-use, then its well worth spending some time in the shed and putting together your own bike, especially if you can involve your kids in the process.
Viper 24" Full Suspension MTB facts and figures
Bottom bracket
| | |
| --- | --- |
| Type | square taper |
| Width | 122mm |
| BB shell width | 68mm |
Latest updates
October 2012
This bike is now my youngest daughter's and so it's undergone some customisation to suit her:
Shock has been shortened by 10mm to reduce the rear ride height by around 25mm;
Fork stanchions have been pushed up through the crown by 25mm, dropping the front of the bike by that amount;
Specially shortened 140mm LX cranks running a single 32t middle ring have been fitted;
May 2013
New wheelset , modified Mag 21 and some new pedals for growing feet.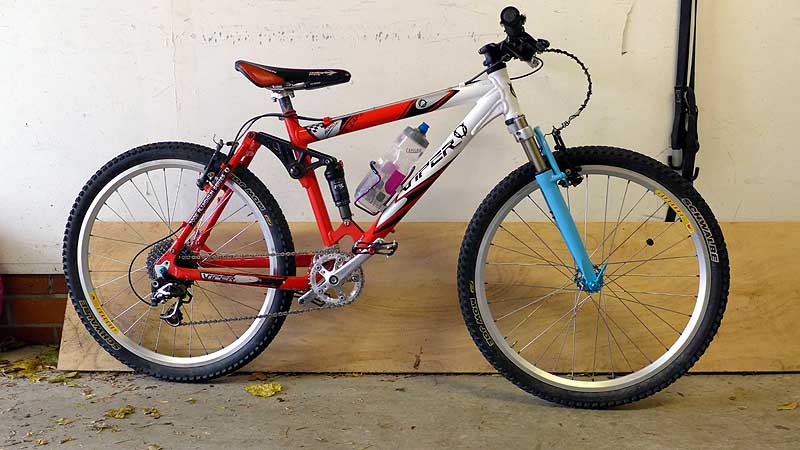 June 2013
Rocket Rons

...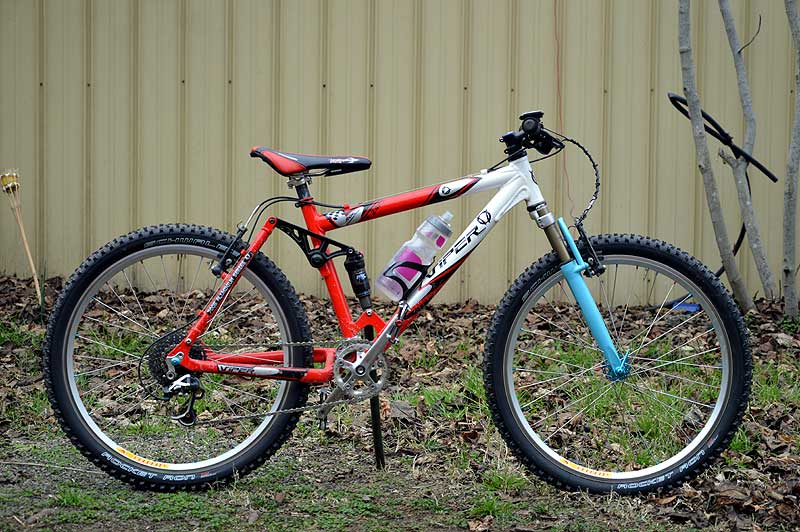 August 2013
Made a new set of shortened cranks based on Truvative 5D, fitted a 32t Raceface chainring, a c-guide chain retention device and built a new front wheel. Re-modified the rear shock back to full travel as well as fitting a valve for IFP repressurising. Also fitted a WTB Deva saddle.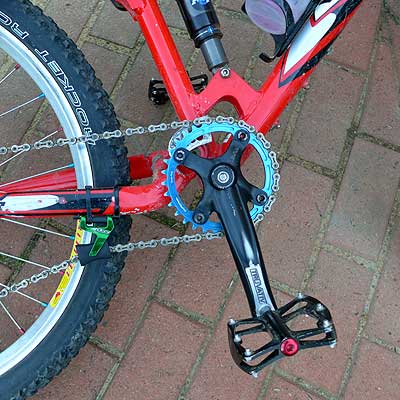 Weight is now sub 10kg, but expenditure has increased to $1031: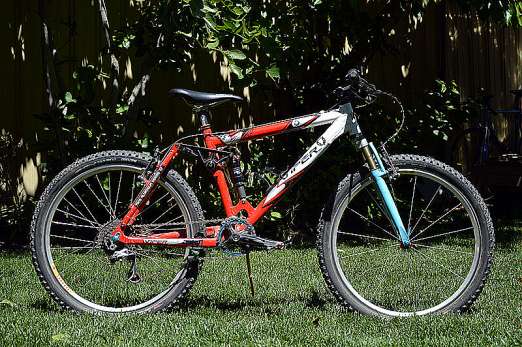 | | |
| --- | --- |
| Total Expenditure (AUS $) | $1031.00 |
| Bike | $260.00 |
| Crankset | $10.00 |
| Seatpost | $35.00 |
| Tyres | $85.00 |
| Handlebars | $25.00 |
| Stem | $35.00 |
| Quick Release | $4.00 |
| Pedals | $35.00 |
| New pedals | $40.00 |
| Rocket Rons | $60.00 |
| Wheelset | $292.00 |
| Front wheel | $35.00 |
| Chainring | $20.00 |
| Bionicon c-guide | $20.00 |
| WTB Deva saddle | $75.00 |
End of 2013 tweaks
| | |
| --- | --- |
| Got a set of 1999 SID SL forks plus some AEST lightweight disc brakes. Rebuilt the wheels with 16 spokes in a paired arrangement (including a super-light front version using 16 Marwi Ti spokes ), added a 160mm Aries front rotor and 140mm KCNC Razor rear rotor. Dropped about 200g in the process but the disc brakes are much more powerful for little hands and the performance of the SID is superior to the Mag21 it replaces. | |
Full bike shot: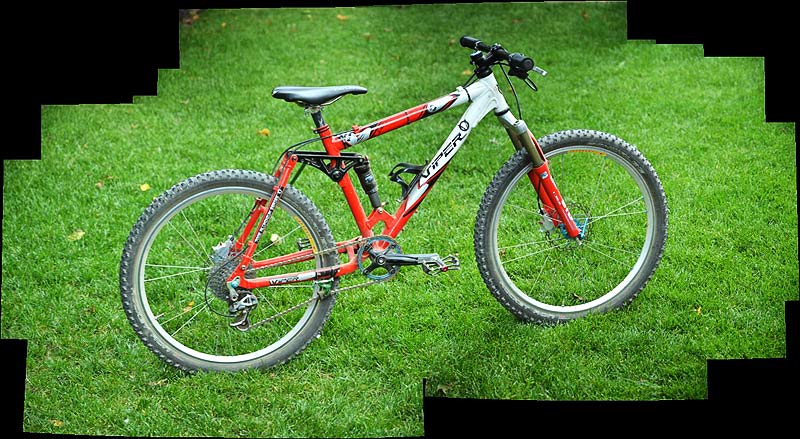 Happy rider: