There's really minimal tuning available for the XTR RD-M972 shadow 9-speed derailleurs without breaking out the dremel and shaving parts down.
The following steel bolts can be replaced with aluminium versions:
pivot bolt - this was sourced from Toronto Cycles. The first batch of these bolts was made incorrectly and was too sloppy;
jockey wheel bolts;
cable pinch bolt;
The jockey wheels can be replaced with lighter versions - I used some AEST aluminium jockey wheels ;
Final result: 178g.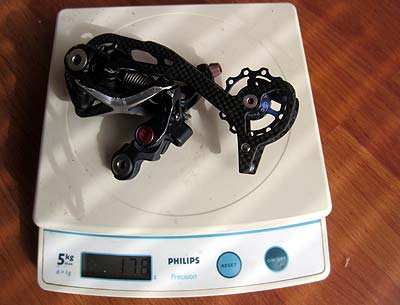 Update
A word of caution with using an alu pivot bolt. If the derailleur gets hooked up then the bolt can shear and instead of the derailleur hanger or axle bracket unit breaking, the b-knuckle on the derailleur will break. This is not a replaceable item, so it means that the derailleur is toast.