When the DPF differential pressure sensor failed in our Mercedes C250CDI the following occurred:
the check engine light came on,
the car entered limp mode; and
a P244A error code.
What sensor is used?
The 2011 Mercedes C250CDI (OM651) engine uses a Bosch DPF sensor model number 0 281 002 925. The equivalent Bosch generic part is 0 281 006 278.
What are the pinouts to test the sensor?
You can test your sensor using the following pinouts. The pressure range is from 0 around 14psi, and the output voltage will vary with pressure from 0V-5V.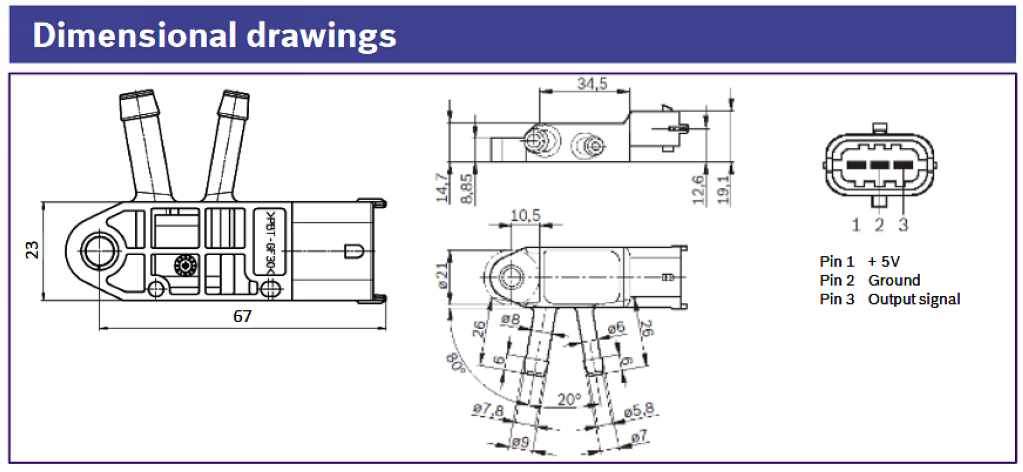 Where's the sensor located?
The sensor is located at the rear left of the engine. It is bolted to the back of the bracket that holds the air cleaner box in place. To get to the sensor, do the following:
remove the cold air intake pipe to the front of the airbox;
undo the hose clamp from the bellows of the airbox;
remove the (MAF?) sensor connector to the airbox bellows;
remove the 4 ecu mounting bolts;
pull up the ECU wiring harness off the airbox mounts and fold the ECU and harness up and out of the way (toward the windscreen);
remove the airbox lid by undoing all of the screws;
remove the airbox by pulling up at the front and then pulling towards the front of the car;
undo the 3 bolts that hold the rear airbox bracket to the engine;
tilt the bracket forward giving access to the sensor mounting bolt and the saddle bolt for the hoses and the hose clamps.