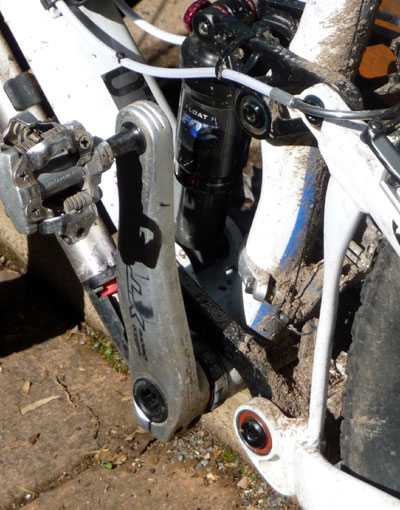 After about 6 months use the lower set of larger bearings on my Anthem X had started to wear out. You can see them in the picture - the new bearings are the ones with the orange rubber seals.
What bearings are needed?
The lower set of larger bearings on my Anthem X frames are 28mm outer and 15mm inner diameter and are 7mm wide. The normal bearing designation for these is 6902. Make sure you get the LLU type - the LLU designation means that these have double-lip contact rubber seals. Its a "labyrinth" seal type that offers better sealing, which is exactly what you want on suspension pivots immersed in mud and water.
How much will it cost?
The NTN 6902LLU/2AS bearings cost AUD$11 each at my local bearing shop. They had them in stock so it doesn't seem like they are a rare size that would need to be specially ordered.
What's the procedure?
You need to remove the rear triangle so:
take off the rear brake caliper;
take off the rear derailleur - leave it connected to the cable, just remove the derailleur mounting bolt;
remove your cranks - or at least the drive side crank;
undo the top retaining bolts;
undo the bottom pivot bolt.
Extracting the bearings
The bearings came out fairly easily by inserting an 8mm 1/2 drive socket through the bearing and using that to tap them out. You can support the outer edge of the swingarm using on older style bottom bracket bearing cup. It's the perfect size to let the swing arm bearing drop into.
Installing the bearings
I was able to press the bearings in using a 21mm socket which had a perfect outer diameter for the job.
Thoroughly clean the bearing bore and then coat the new bearing outer with some anti-seize. Make sure when you install the bearing that it goes in straight. If you press it in cock-eyed you run the risk of flogging out the bearing bore in the swing-arm. This would be an expensive mistake. Just take it slowly and carefully.
How long will it take?
All told its about a 30 minute job.