Maybe... That's a pretty big call, but I recently picked this little beauty up for 30% off. At full RRP its probably still good value, but at 30% off it is exceptional value. For less than AUD$1700 its pretty hard to beat.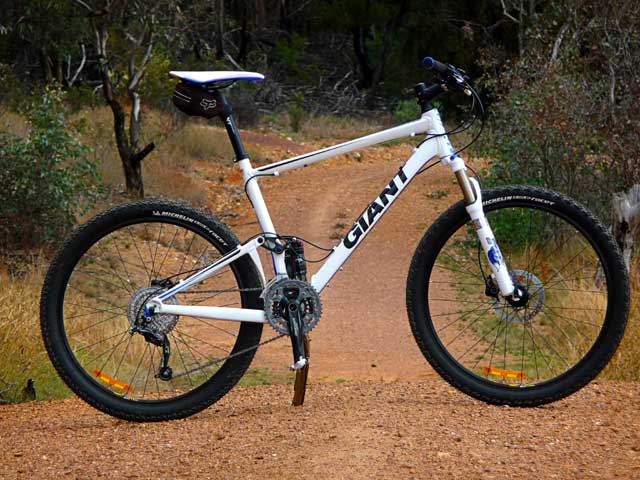 What's the best part?
The frame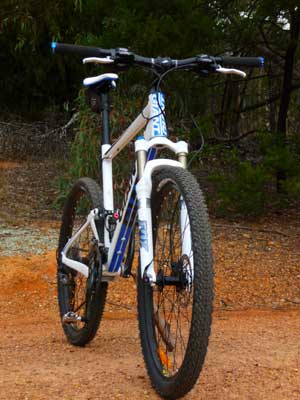 Without a doubt, the best thing about the Anthem X is the frame. All of the aluminium Anthem X's share the same hydro-formed ALUXX SL-grade aluminum frame (the Anthem X Advanced series features a full carbon fiber frame). Giant claims this is the lightest aluminium full suspension frame they have ever made.
That may be true, but aside from the weight claim, what makes this frame really nice is that it climbs and descends so well and feels fantastically efficient pedaling on the flat.
The suspension setup is great with about 15-20% sag. At 25% sag I found the rear would eat up its travel too quickly. No harsh bottoming but it didn't inspire you to "go big".
For a lightweight frame it feels amazingly stiff. The rear wheel tracks nicely over angled log crossings. You just don't feel any flex.
4" of rear wheel travel is not a lot, but if anything, when properly setup the rear feels like a longer travel bike.
Assorted details
What length fork steerer tube is needed for a large frame 2010 Anthem X?
The minimum length is 195mm, but anything longer than 215mm will give you some cockpit adjustability.
What size rear shock does the Anthem X use?
Rear shock size on all Anthem X's is 165mm eye to eye and 38mm stroke (6.5 x 1.5" in imperial).
The rebound and compression tune specced on Fox shocks used by Giant on the Anthem X is medium rebound and medium compression.
Component weights
I bought the Anthem X3 to use the frame. As a result I pulled all of the components off it and weighed many of them:
| | |
| --- | --- |
| Component | Weight (g) |
| Giant 30.9 seatpost | 317 |
| Fizik Tundra saddle | 257 |
| Giant seatpost clamp | 24 |
| Giant connect stem | 167 |
| Giant riser bars | 325 |
| Fox F100RL fork | 1575 |
| Shimano front disc brake (lever, hose, caliper, pads, bolts) | 319 |
| Shimano SM-RT51 disc rotor | 145 |
| SLX shadow rear derailleur | 262 |
| HG50 9 speed cassette | 438 |
| Michelin Wildgripper 2.0 folding tyre | 600 |
| Rear wheel | 1316 |
| Deore crankset | 882 |