The bottle cage mounts on my Anthem X have been getting increasingly loose. After a quick discussion with Joe at Carine Cycles , I decided to attempt a repair myself. It appears on these frames that the bottle mounts are nothing fancier than rivet nut (eg. rivnut, nutsert etc.). They are not welded in, but are inserted through a hole in the frame tubing and crimped in place much like an ordinary rivet, only with a thread in the middle.
To tighten them up, I used some spare aluminium suspension bushes and a Fulcrum front skewer. Basically, put enough spacers on the skewer that you are left with thread on the end that you screw into the bottle cage mount. Screw it in with the skewer handle in the open position until things get tight, then close the skewer, thereby clamping the rivet nut tighter.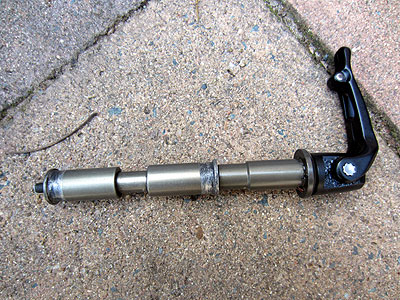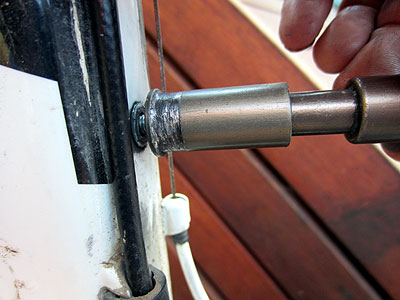 Caution
You want to take things carefully, so don't try to crimp it up all in one go. Its better to do it in a few stages. Also take particularly care to keep the skewer perpendicular to the hole and not to cross thread it on insertion.