The newest addition to the bike family: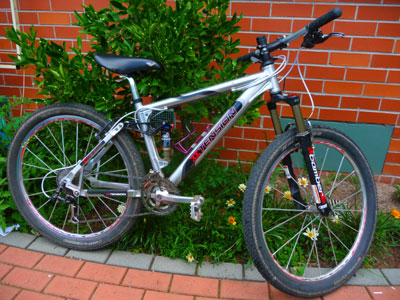 Build details
Frame: Xtension Xpilot XC frame in extra small (14.5" size);
Fork: Marzocchi Bomber MX Pro ETA set at 105mm;
Brakes/brake levers/shifters: Shimano XTR;
Wheelset: Fulcrum Red Metal Zero ;
Drivetrain: Shimano STX RC cranks, Shimano SLX 9 speed cluster; Shimano LX rear derailleur, Shimano STX front derailleur, KMC 9-speed chain.
Total weight: 12.5kg.
Places to loose weight on a budget
fork: the Marzocchi Bomber MX Pro ETA weighs over 2kg. For a light small rider an older SID could save 600g and still give acceptable performance. Older SIDs are around $100;
saddle: the Avocet saddle is heavy (around 360g) but the rider of this bike really likes the comfort. If it was me I'd be ditching that seat in an instant. 200g saddle around $50;
seatpost: 270g crappy generic seatpost. 150g carbon/Ti seatpost $70;
handlebars: heavy old Giant generic bars circa 1996 220g - something in carbon fibre or scandium would loose some serious weight - scandium flat bars 115g $40.
For about $260 you can shed almost 1kg from this build.