I got this frame to build a new FS rig for my wife. Apollo claims on their website that it weighs 2.1kg. I don't know where they get that figure from because my M size frame without shock (but with FSA headset) weighs 2590g (the M size frame is the smallest Apollo makes). Add a Fox RP3 shock (about 210g) and you've got a frame weight of close to 2.8kg. That's actually surprisingly heavy for a frame that is half carbon fibre and only has 100mm of travel. Indeed, its heavier than the Xtension all alu horst-link frame which seems to be of far burlier construction than the Apollo (the Xtension frame is an XS size).
Anyway, that aside, it seems a fairly well made frame and hopefully all that extra weight will result in a super-stiff and responsive frame.
Seatpost size
The Apollo website says this frame as a complete bike comes with a "Easton EA50 27.2mm" seatpost. Well they must be using a shim because the actual seat tube takes a 31.6mm seatpost.
Suspension design
Single pivot, pivot forward of the BB at and a height that it should be most neutral when in the middle ring.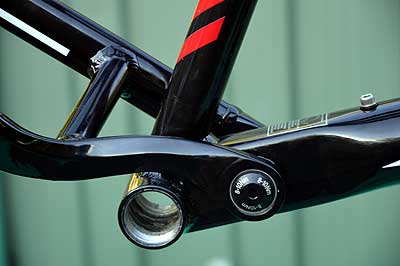 165mm x 38mm stroke shock, comes with a Monarch 2.1 but I got the frame without shock and used a Fox RP3 that I revalved for use on my ATX 990 which has a very similar suspension design. I'll need to ride this a bit to see if I like how the current valving works on the Terra 20.