There are very few tandems available in Australia off-the-shelf. Apollo is one of the few manufacturers that offer one. Polygon also have a tandem which is cheaper than the Apollo but has lower quality parts. The Polygon frame looks a little weak. The lack of a continuous top tube seems like asking for trouble.
It comes with some skinny 1.9 Hutchison "Wet Trek" tyres but fortunately, there's plenty of clearance for some real tyres. Fishing around in my tyre box I found a couple of brand new Continental Vertical Pro 2.3 tyres with the kevlar sidewall protection. They have fairly aggressive knobs but roll relatively well.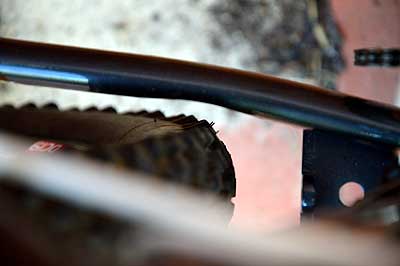 There seems enough clearance to be able to fit a 650B rim and tyre of decent dimensions.
Upgrades
Upgrades are pretty much going to be kept to a minimum. Its always going to be a big heavy bike with limited off-road appeal. That said, there's a few things that make it a better bike for all round use:
Continental vertical pro 2.3 tyres;
Fulcrum QR skewers - these have some of the highest clamping force available in a quick release skewer. This is exactly what you need in a QR skewer for a tandem;
Shimano m486 hydraulic disk brakes;
Front suspension
So far, I've tried three suspensions forks: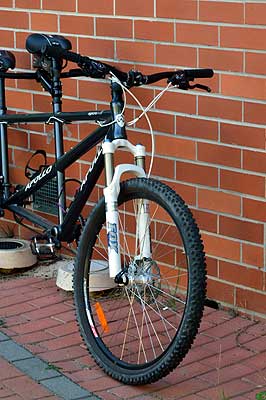 The Fox F32 is definitely too flexy for tandem use. The long wheelbase and weight of the tandem puts a lot of torsional force on the forks and there was a real lack of steering precision with the F32 on the front. This was a pity as the fork would have enabled me to run a 650B front wheel at some stage.
The 2005 Reba Race is a much stiffer fork than the F32. I can't say that I could tell the difference when using the Reba, SID or F32 on my Anthem X but there sure is a world of difference in stiffness when using the Reba and F32 on a tandem. The positive and negative air adjustability of the Reba also helps on a tandem to get a good setup. The F32 was either too soft so it wallowed in the mid stroke or too firm so that you could never get full travel. The Reba in comparison feels very buttery on the tandem.
The Reba is still a pretty flexy fork on a tandem and was only a temporary solution until I acquired a suitable burlier fork.
I scored a Manitou Nixon Platinum fork for the cost of postage, gave it a complete rebuild and going over, built a 20mm axle front wheel and slapped it all on the tandem. Steering precision is great with this fork. The 20mm hex axle probably helps.
The original front wheel had 36 straight gauge 2.0mm spokes with a 500g Alex DC19 rim and 9mm axle. I used this with a Reba QR fork and a Fulcrum QR which has one of the highest clamping forces of any readily available QR. The combination was too flexy for the tandem. Even so, the flex was only really noticeable traversing angled ruts or when cornering at the limit on bitumen. Most of the time the traction available offroad was not enough to feel the flex. At this stage I couldn't be sure what was causing the flexy feeling - the fork, the el-cheapo wheel, both?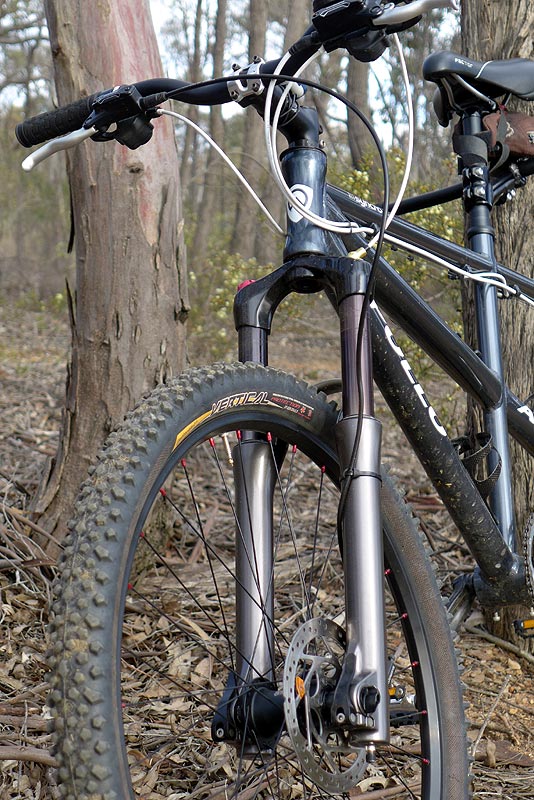 The new front wheel (a temporary build using whatever I had on hand) has 32 2.0-1.7-2.0mm spokes, WTB super duty hub, 20mm quick release and Mavic 117 rim. I'm using a Manitou Nixon Platinum fork.
The new package is night and day stiffer overall than the old setup, even though the new front wheel will definitely be flexier because of its thinner spokes, reduced spoke count and lighter (non-eyeletted) rim.
In reality, you'd never know the new front wheel is flexier because the reduction in flex from the burlier fork and 20mm thru-axle means its not humanly possible to discern the increase in wheel flex. On this basis, I'm inclined to conclude that the difference in wheel flex between a 32h DB spoke wheel and a 36h SG spoke wheel is for all practical purposes insignificant, even on a tandem with a 130kg team.