Good pumps are hard to find and over the years I've had and tried plenty. My latest on-bike pump is the Lezyne HV Drive Pump in white and medium size.
The Lezyne design is a bit of throw back to the pumps of old where you had a flexible host in the handle, but there's nothing wrong with that. Indeed, there are a few good things about the updated take on an old design:
no messing around to pump either schrader or presta valves - simply reverse the hose;
secure screw on connection with valve - far superior to push on/lever clamp type systems;
flexible hose between pump and valve means there is no force put on the valve body when inflating the tyre, so no more busted or bent presta valves from having the pump on the wrong angle.
Quick facts:
weight: 112g including hose for the white version, medium size;
mounting bracket weight: 12g for plastic mounting bracket including velcro strap.
Maintenance
There's not a lot to go wrong on a pump like this. About the only point of failure (wrong - see update below!) is the o-ring on the pump piston head. For a replacement you'll need an o-ring with 20mm ID and 2.5mm thick. If you've got an imperial o-ring set then a BS117 is the perfect replacement.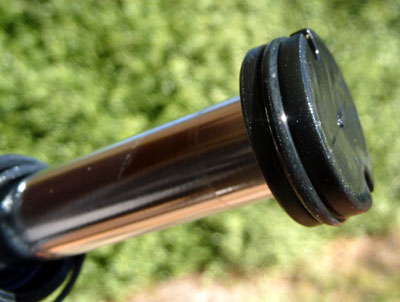 Tuning
Tuning a pump, WTF?
Not something I'd ordinarily waste any time on, but the white version I have has a lot of overspray from the white paint inside the pump barrel. You can feel it as roughness in the stroke at full extension. Its sort of annoying and will probably cause the o-ring on the pump head to wear quicker than it should.
I cleaned this area up (and the entire inner body) using a small hone and then polished the surface. The pump now feels silky smooth.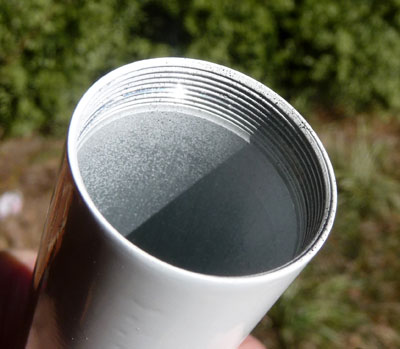 Update
My pump is now semi-busted. When using it to inflate a tyre in conjunction with the Lezyne Pen Gauge , the pen gauge burst off the end of the pump. I had it fully screwed on, tight and not cross-threaded. It just looks like the Pen Gauge doesn't engage on enough threads in the HV pump. By removing the o-ring on the Pen Gauge, I can still use it with the pump because it will screw on further, but I'll be getting in contact with Lezyne to see if I can get the pump end as a spare part.