The pen gauge replaces the standard hose in the medium and large HV and HP series Lezyne pumps .
What's it weigh?
Lezyne claims it weighs 29g and the example I have weighs 28g on my scale.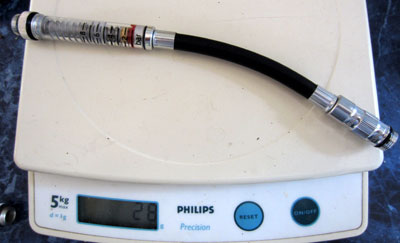 The standard hose for the medium size HV pump weighs 14g: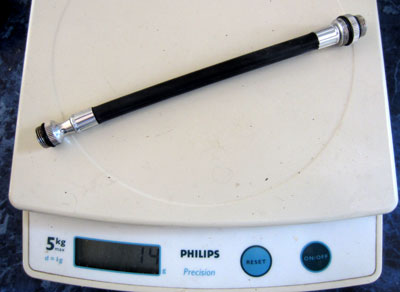 Final words
Adding a pressure gauge to your pump for an extra 14g is well worth it. A pressure gauge means that you're not going to waste energy over pressurising your tyres. It also means you can pump your tyres up to the pressure you know they perform best at.
However, for mountain bike use, the fact that gauge can go as high as 120psi is a slight negative because it means that the pressure range we're interested in (25-35psi) involves very little movement of the gauge, so accuracy is well down.

I like to run my tyres between 28-30 psi. The way to use this gauge is to calibrate it at home with your floor pump (which hopefully has a more accurate gauge). I've made an extra mark on Lezyne pen gauge that corresponds accurately with 28psi. If I pump the tyre up to the mark, I know I'm good to go.