Carbon parts like seat post tubes, handle bars and derailleur side plates get scratched up over time. Typically, what gets damaged is the "cosmetic" clear coat layer. This is not a structural part of the component. It is an epoxy or acrylic top coat that typically provides for UV and abrasion protection. As a result, you can refinish carbon parts as follows:
wet sand the surface gloss coat with 120 grit sandpaper - stop if the resulting dust is black - that means you are now sanding down the carbon fibre. This will reduce the structural integrity of the part;
analyse the surface of the sanded part when wet - this will give you an idea of how it will look once clear coated. Decals can be removed by sanding them off at this stage;
finish wet sanding with 500 grit paper;
completely dry the part - it will now look bad;
wash part in preparation for clear coat using a wax and grease remover;
spray part with acrylic gloss UV resistant clear coat - multiple coats may be necessary to get the finish you desire. You can also wet sand between clear coats if you find imperfections in the clear coat.
Here are some example pics of refinishing a set of carbon handlebars: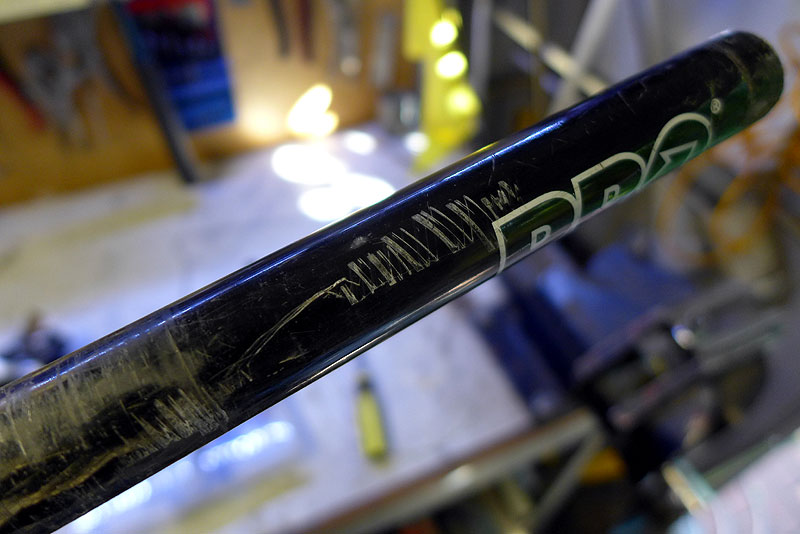 | | |
| --- | --- |
| | wet sanded to remove damage; |

| | |
| --- | --- |
| | |

| | |
| --- | --- |
| | Here's another example of some carbon bars that I've refinished. In this case, I removed most of the FSA graphics and added some purple highlights to match my daugther's bike. The purple painted highlights are underneath the clear coat layers. |