Another Giant Anthem X in the family, this time using a 2009 Anthem X0 medium sized frame. As you'd expect, there are some special tweaks:
added a little colour to the stock white/black/brushed aluminium scheme with some selectively applied purple;
capreo freehub compatible rear wheel with Recon/Canfield 9-36t rear cassette;
offset shock bushing on upper shock mount to drop bottom bracket/slacken head angle;
120mm SID XX fork with RCT3 damper;
Collecting the parts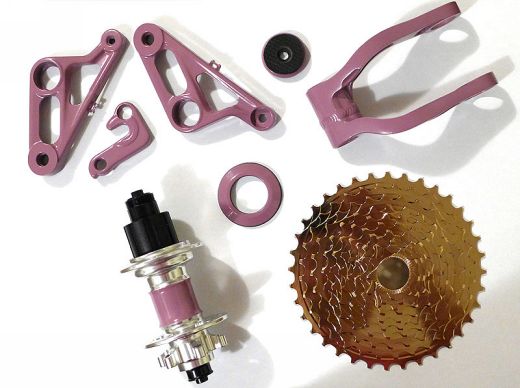 Geometry
Geometry on this Anthem has been adjusted and sized in accordance with the latest trends of lower and slacker. Head angle with mods ends up being around 69.5 degrees, bottom bracket about 320mm. With 165mm cranks there are no issues with pedal strikes and the lower BB. Also, the medium frame with its longer top tube allows me to use a shorter stem, in this case a 60mm stem.
Offset shock bushing: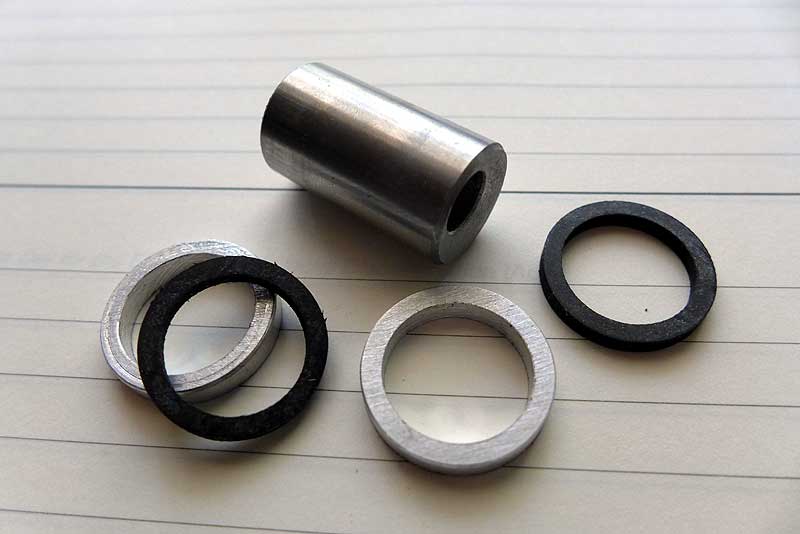 Custom seatpost
This started out life as a carbon seatpost from a 2009 Anthem X Limited. Only the carbon tube remains. The head was cut off and the top end machined to match the cradle. A diagonal hole was also drilled for the cradle securing rod. The other components come from a broken KCNC Ti seatpost. The carbon seatpost tube weighs 110g and is 300mm long. The cradle, bolts and rail clamps weigh 21g. Total weight is 131g. Custom paint to match the frame colour highlights.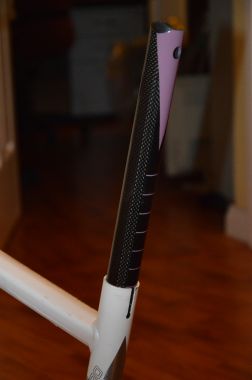 Colour matching
The following items were colour matched using a process of sandblasting, primer, 2-3 coats of colour and 2 coats of clear:
lower linkage;
rocker plates;
center part of hub shell;
headset top cap;
carbon top cap;
derailleur hanger;
IS to PM adapter for rear brake;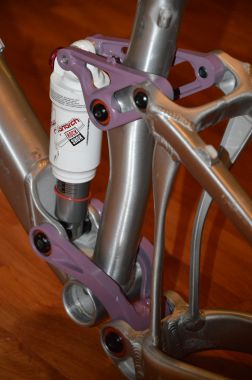 FSA K-Force carbon bars
These bars were in fairly rough cosmetic shape and were also covered in some pretty loud red and white graphics. A little bit of wet sanding soon got rid of almost all of the graphics. I then masked off a couple of areas and added some matching purple to tie the bars in with the rest of the bike. Some coats of clear finished things off.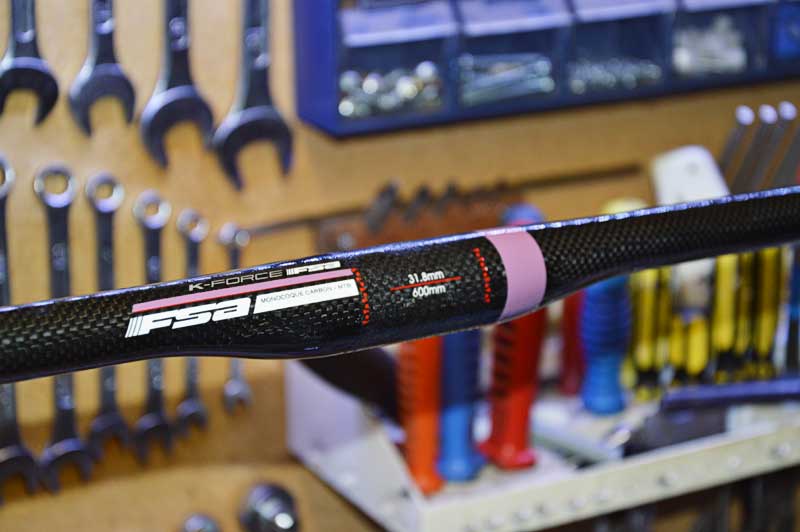 Wheels
32h Stans Podium MMX rims front and back;
DT Swiss Revolution spokes all round;
A2Z front hub;
custom rear hub with capreo compatible freehub;
Components: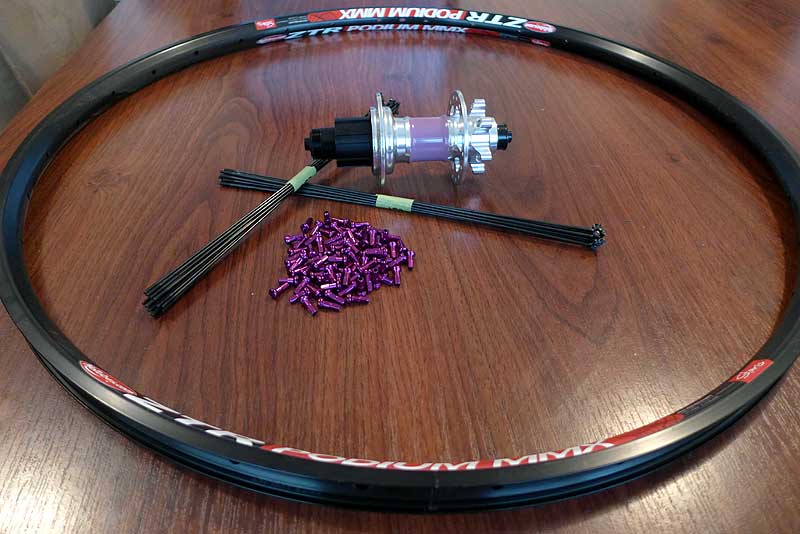 All done: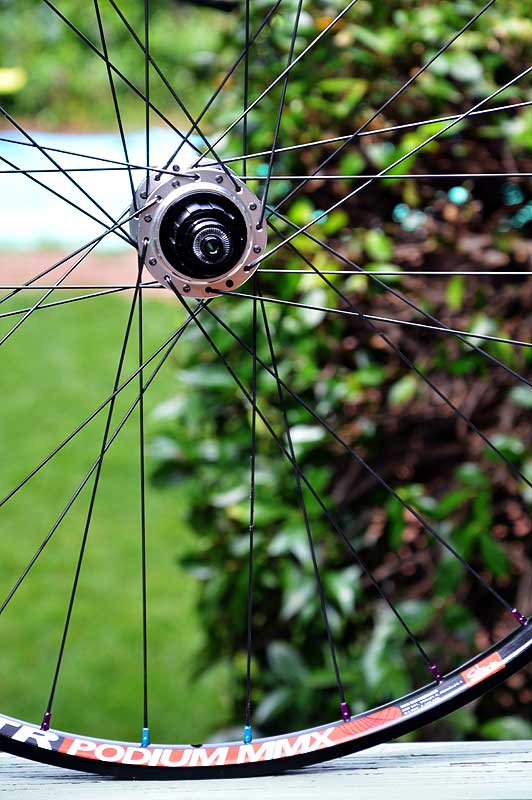 Crankset
Shimano XT M785 in 165mm length, running only the 28t granny, total weight 715g. May replace steel granny ring bolts with alu at some stage.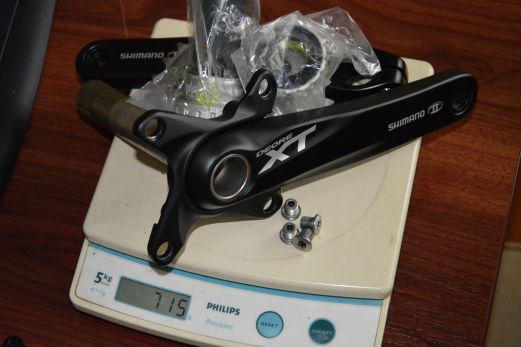 Zee
Zee rear derailleur (AM 36t version). Zee and Saint are the only options for a short cage shadow plus (clutch-type) rear derailleur in the Shimano line up. The short cage has just enough length to handle the 9-36t cassette (27 tooth range) of this setup.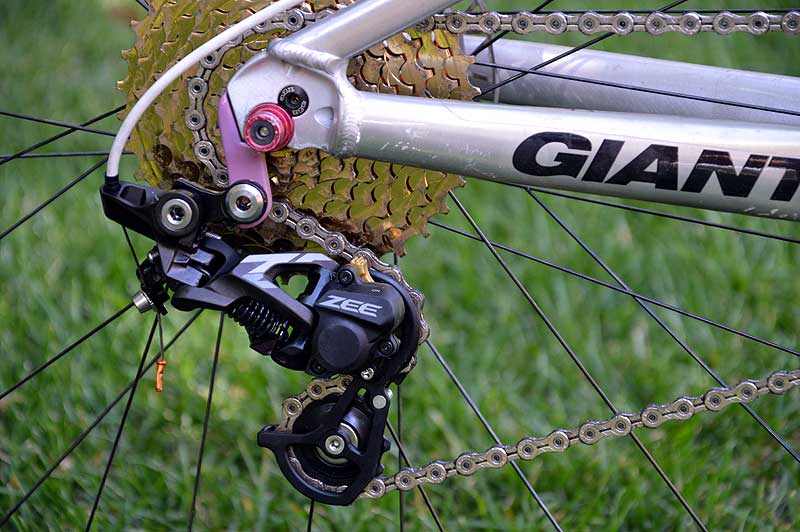 All done
9.32kg of single track carving goodness as pictured: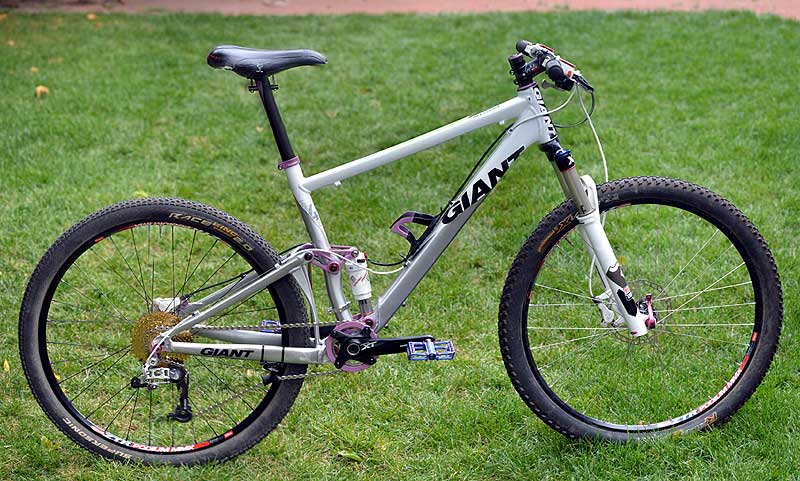 Cockpit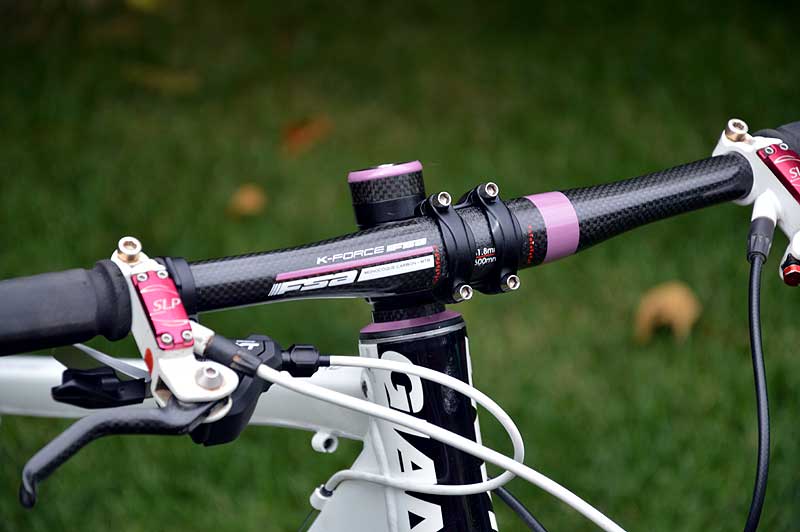 Drivetrain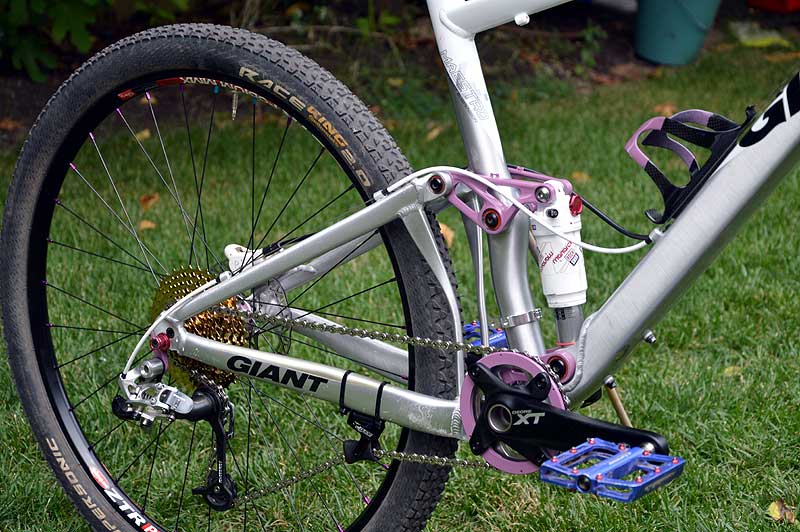 Rear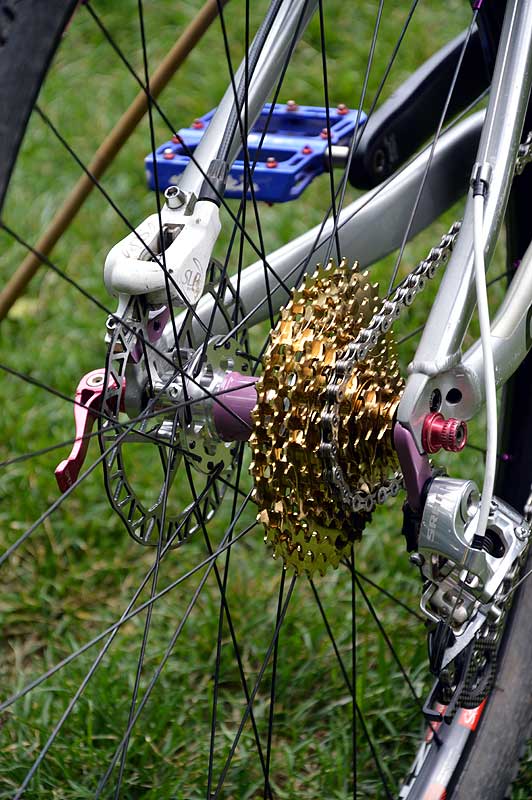 Purple highlights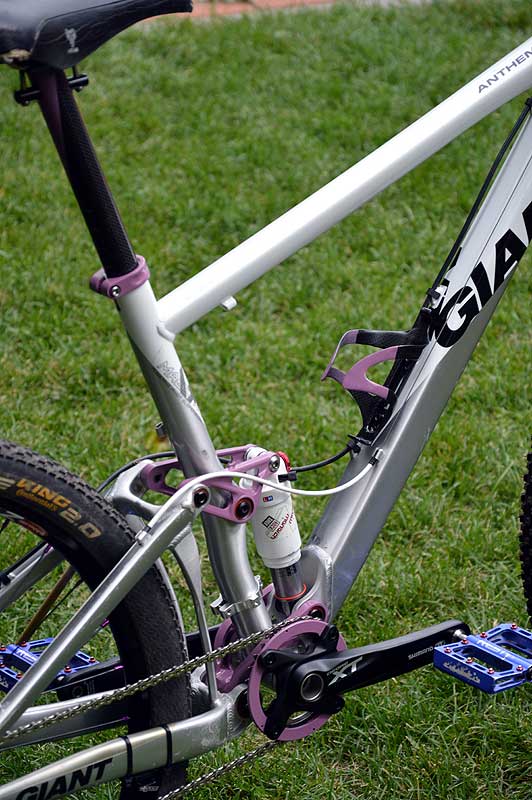 Build update
The bike's put on a little bit of weight. The lightweight Recon cassette wore out quickly, so I replaced the rear wheel with a conventional hub using a 10 speed XT 11-36t cassette. This still provides the a good range of offroad ratios. My daughter is now using SPD pedals, so the lightweight AEST pedals are gone and replaced with some comparatively heavy Shimano M540 pedals.
Current weight is still under 9.5kg.