I bought a set of these off fleabay to use on my daughter's FS 24" MTB. As her skills improve and the conditions we ride in get more variable, I found the Welgo M111 pedals too slippery. The Wellgo WR-1's are less slippy, but the platform is a little small for larger kids feet.
The J&L's seem like a nice pedal. They have replaceable aluminium pins, are nice and thin and weigh exactly as claimed (281g on my scale for the pair). The platform is surprisingly large for such a lightweight pedal and they don't have any particularly sharp edges or corners.
Inside are three sets of sealed ball bearings. Close to the crank there is a double row sealed bearing and at the outer end there is another single row sealed bearing. Straight out of the box, one pedal spun much freer than the other, so I pulled apart the "tighter" feeling pedal, regreased and adjusted the bearing preload. It is now almost as good as the other pedal but there is some slight roughness still remaining. I'm going to monitor that over time and see if its a bad bearing.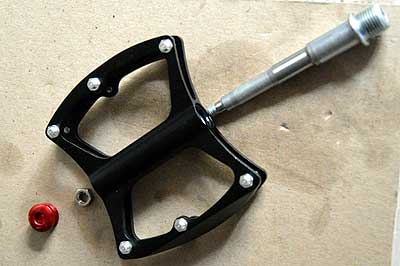 Here's a top-down shot showing the platform size comparision between these pedals and the Wellgo WR-1's.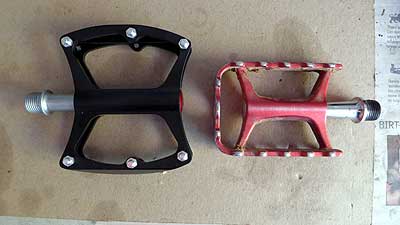 Side shot to show thickness:

These seem the same as the AEST pedals at DX and the CycleTrack pedals at DX.