The Mag 21 has a really bogus air spring fill method. You basically use a fill needle to penetrate the top of the damping adjuster. In the damping adjuster there is a rubber pellet that is supposed to seal itself when you remove the fill needle. As you'd expect, this is not a particularly great system and its only a matter of time before the pellet will start leaking.
I have modified the fork on my daugther's 24" FS MTB as follows:
Solo air
The Mag 21 normally has air pressure and damping in both legs. Indeed, each leg is identical. For light riders to get full travel you need very little air pressure and only in one leg. This combined with the air pellet leakage problem meant that I could remove all of the damping internals from one leg and convert it exclusively to an air spring.
I cut the schrader valve off a motor bike tube;
removed the damper adjuster from the middle of the stanchion top cap;
put the schrader valve in place of the damping adjuster, along with a custom made rubber seal;
bolted everything together using valve stem nuts.
Hey presto! This mod works really well, no more leaking air spring.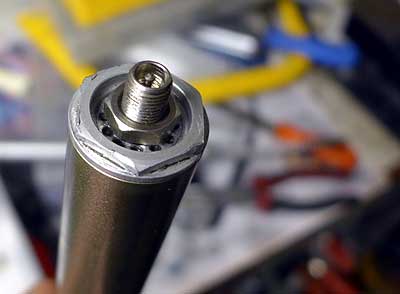 Side view of air valve: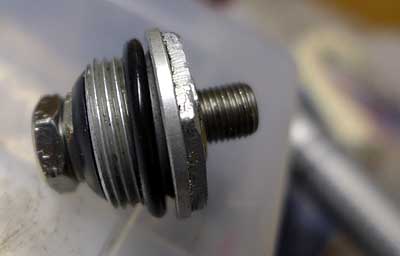 Update 17 June 2013
Got some aluminium car vavles off fleabay: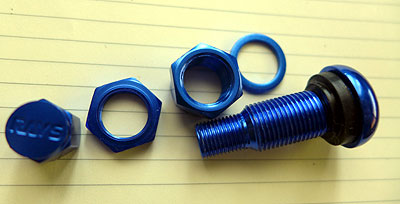 They work nicely with the adjuster top cap and seal up easier than the cut-off moto tube schrader valve: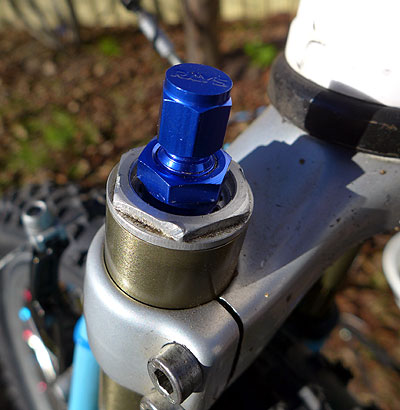 As the solo air leg no longer serves any damping function, I have used 10mm of Mobil 1 oil as splash lube instead of filling with the normal amount of suspension fluid. The Mobil 1 is much slipperier than suspension fluid.
Air spring tuning
Like all air springs, they can be tuned in two ways, the initial pressure setting and the volume of the air spring. The greater the volume change on compression, the more the air spring will ramp up - that is, the less "linear" the air spring will be. Volume can be changed by simply adding or subtracting the amount of splash oil.
Solo air leg now complete: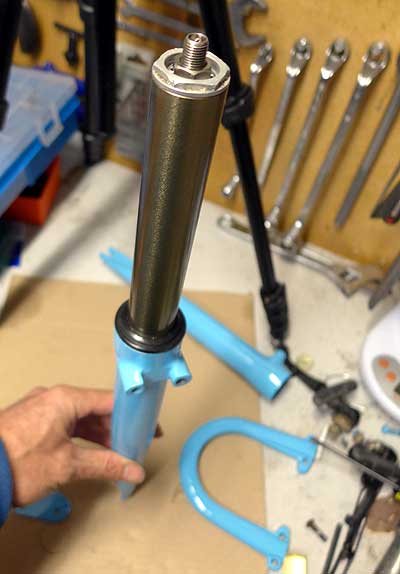 Bottom out bumper
If you ever get the fork to bottom out, it does so harshly. This is because the only anti-bottom out device in the fork are two thin rubber rings that sit at the bottom of each fork leg.
I have taken some 40A durometer elastomer that I had left over after making some custom elastomers for the Manitou 20" fork and made my own bottom out bumper as follows:
length: 12mm;
centre hole: 6mm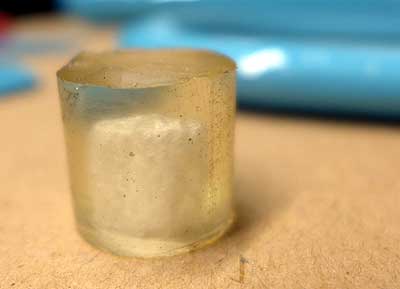 Damping side
...mods coming soon...
Bare metal respray
After several years of use and abuse, the white respray that I did was starting to look a bit tired. My daugther was itching for a colour change, and a great sky blue colour was selected in quick time.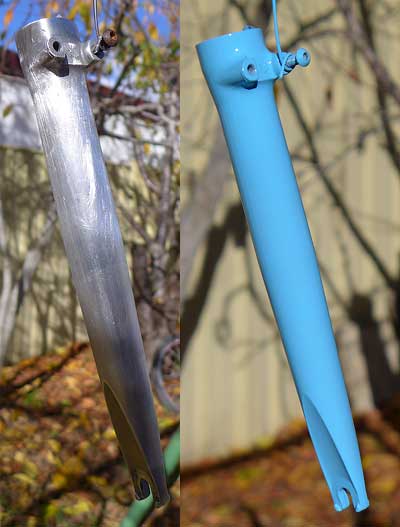 Instead of just giving them a light sand and painting over the top, I decided to do a bare metal respray. This involved stripping them back to bare metal using paint stripper and a stainless scourer. The lowers are made from magnesium (probably some sort of magnesium alloy) so prepping for paint was a little different to normal:
the stainless scourer was new and not used on any other ferrous or non-ferrous metals - only the mag lowers;
the paint stripper was washed from the lowers using plain water without any detergent (normally an alkaline than can react/blacken the magnesium);
just before apply primer, the lowers were sanded with 400 grit and the quickly cleaned with prewash;
immediately they were sprayed with a very light and thin coat of non-etch epoxy primer; and
finished with two very thin top coats of sky blue gloss.
With surface good preparation, like in this case, I was able to achieve a high gloss finish without having to float on really thick coats or resorting to clear top coats.
I kept the paint coat thickness to the absolute minimum because I was concerned that the magnesium might outgas and eventually lifting the paint. I also didn't want to add a lot of useless weight to the fork in paint.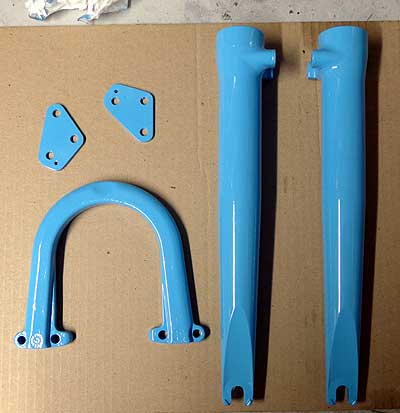 Initial mods done
All ready for some test riding. New wheels also.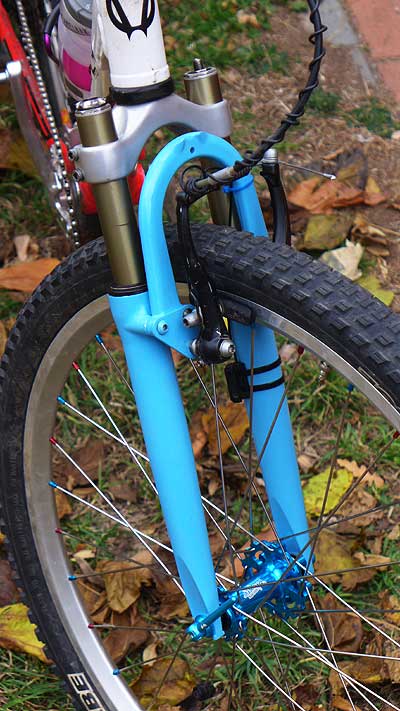 Final config: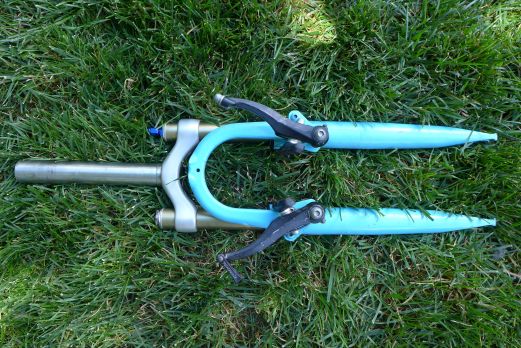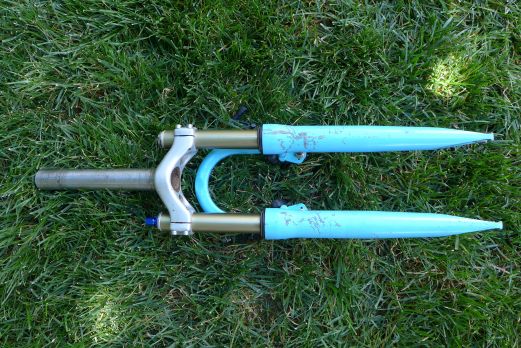 weight with v-brakes attached;