The cooking system comprises:
a stainless steel pot with lid;
"penny" type DIY stove;
bent wire pot stand;
heatshield made from aluminium baking tray;
one or more 125ml nalgene bottles filled with methylated spirits;
lighter/matches
Total weight of system is 467g including one full bottle of methylated spirits (123g/125ml of metho). In comparison, my MSR whisperlite weights almost 500g just for the stove (no fuel, no pot).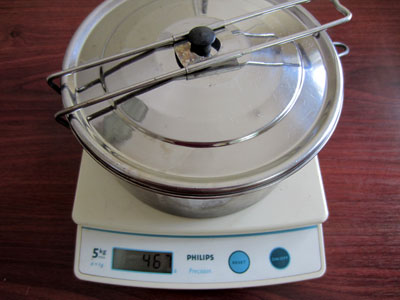 The heart of this system is the home made aluminium "penny" can stove. Based on a design by Mark Jurey it is ultra-lightweight (12g) and fairly efficient.
I've built many versions of this stove and the latest variant uses larger cans - 700ml cans of some putrid undrinkable energy drink. The 700ml cans make for a larger stove than ordinary soft-drink cans. This version is more stable and slightly more efficient when used with the wide based pan as the heating jets are spread over a slightly wider area. Half a litre of room temperature water comes to the boil in around 3 minutes.
Everything packs away within the pot. There's enough room for a second 125ml nalgene bottle.
To boil 500ml of water you need about 20ml of metho. I use about 60ml of metho per day. This gives me about 1.5 litres of boiling water - enough for two cups of water for tea/coffee/soup and a litre of water for rehydrating/cooking.
I'm not precious about my cooking pot, and being stainless steel its pretty tough. Whenever I can, I save fuel using fires to cook and boil water. A fire is the ultimate lightweight cooking system.
Improvements
There's always room for improvement. At some stage I'd like to replace my current pot with a lighter weight titanium version that has a lid that also serve double duty as a frypan or plate. The lid of my current pot only works as a lid. If I had a pot whose lid works as a plate/frypan it would mean that I can leave my plate at home and further save some weight.
I've now replaced the stainless pot with a great Ti pot from alpkit - see here for version 2 of my ultralightweight cooking system .