After the success of my quickly cobbled together saddle pack on a recent bike tour, I decided to build a proper saddle pack from the ground up that would work for carrying my Stratospire 2 tent on the back of my bike.
Bits and pieces
500D outdoor waterproof cordura;
25mm (1") webbing;
25mm (1") side release clips and buckles;
some grosgrain for tie-outs.
Process
make a cardboard template to get seat angle, seat post length and tyre clearance right;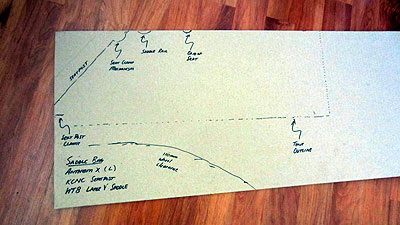 prototype side panels in cardboard and assemble "3d" model;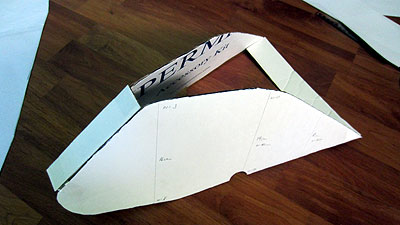 produce pattern for top and bottom of bag;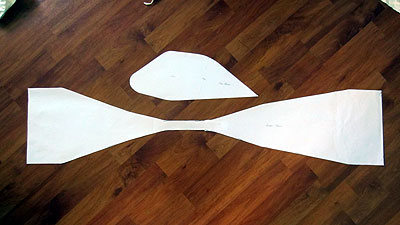 work out the sewing order;
build prototype out of Tyvek and test;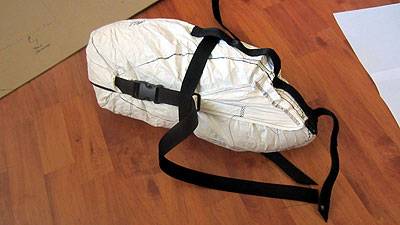 refine and build final version.
Sewing order
prepare grosgrain tie-outs by tacking ends together;
pin tie-outs to side panels;
stitch side straps;
pin side straps to side panels;
stitch narrow end of top and bottom panels together (if not cut from one piece);
stitch webbing to combined top/bottom panel;
stitch one side panel in starting with tight curve on front-most point of panel and doing top edge - make sure tie outs are in place;
stitch other side panel starting with tight curve on front-most point of panel and doing top edge;
stitch bottom edges of side panels;
add half buckles to end closure webbing and stitch together;
Sewing Notes
needle used: 14/90;
thread used: Mettler "extra stark";
Prototype
Building the prototype out of Tyvek taught me a few things:
my original method of locating the roll top tensioning straps didn't work that well on the bike and made the bag cumbersome to get on and off;
the webbing that locates the tie-on straps should go all the way over the top and round the bottom to give the most compression options for different loads;
side stiffeners are not necessary if carrying just the tent, but made out of flexible cutting board they weigh very little and do mean that you also have a couple of cutting boards along;
Final version
This time out of 500d denier:
side view with tent inside;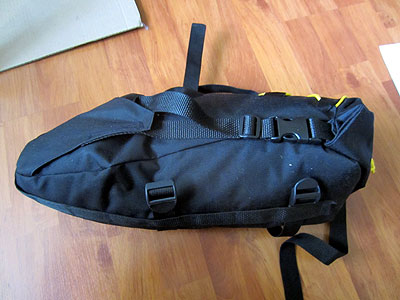 top view with tent inside;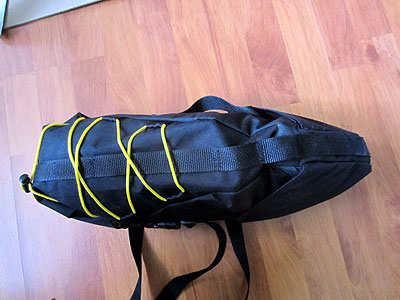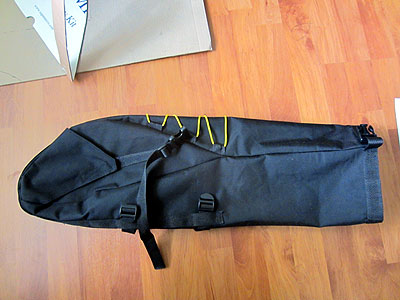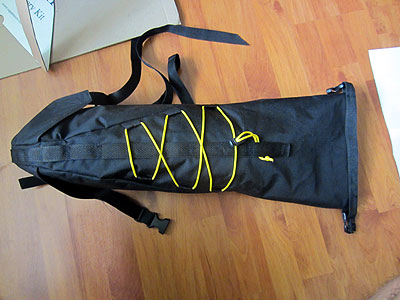 weight - 185g;
on the bike;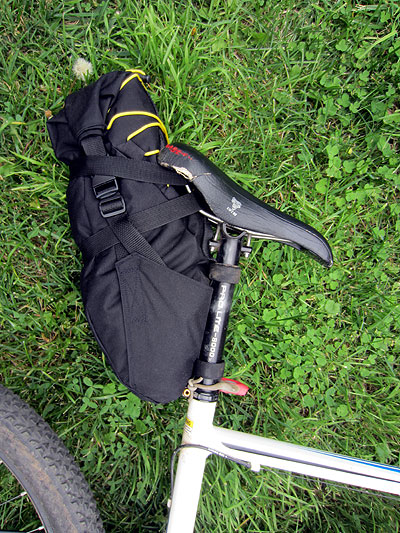 Design goals and principles
One of the key ultra-lightweight camping principles is to design gear to have multiple uses. For the saddle pack, this principle was pursued as follows:
saddle pack itself replaces the tent's stuff sack;
straps used on saddle pack are removable so can be used on other things in an emergency or left on the bike when carrying the tent;
straps can be positioned anywhere around the pack allowing you to decide on the most secure configuration depending on the pack's contents;