An amazing variety of food can be dried in food dehydrators but a lingering concern for anybody who wants to reduce their exposure to potentially harmful chemicals is the widespread use of plastic in most consumer grade equipment. Everybody is familiar with the phenomenon of dried, stained and brittle plastic when it has been continuously exposed to elevated temperatures such as those encountered in a dryer. This begs the question, have the various plasticizers in the brittle plastic leeched out into the food which has been dehydrated?
An all stainless steel dehydrator would clearly eliminate a lot of these concerns. However, there seem to be a very limited range of consumer oriented, reasonably priced, fully stainless dehydrators on the market.
However, here are four units which may fit the bill.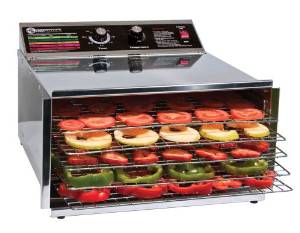 TSM's offering features:
5 stainless steel shelves 22ga - 304 food grade stainless steel housing, will not rust
800 watt heating element and fan creates horizontal air flow
Adjustable thermostat temperature range from 90º - 165ºF
Rack design allows for thorough interior
Removable back panel houses motor and electrical components for cleaning and routine maintenance also allows for cleaning and routine maintenance
Outside dimensions: 18.75 x 16.5 x 9 inch
Priced at around $US470
Click here
for more information and reviews of this product.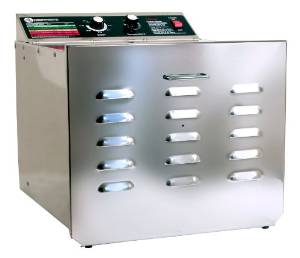 A 10 tray version of the above. Priced at about $US585.
Click here for more info on this product.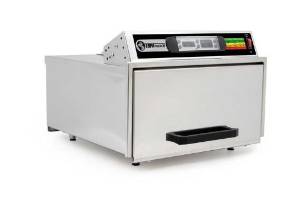 This looks like a digital temperature control version similar to the TSM 5 tray dehydrator above:
Made from SUS 304 food grade Stainless Steel
Capable of achieving temperatures from ambient to 165°F
Digitally controlled thermostat to maintain minimal temperature variance to within +2 / -2 degrees
Numeric LED control, displays the REAL current internal temperature
Comes with five (5) Stainless Steel 1/4" Shelves
Priced at about $US480
Click here for more info on this dehydrator.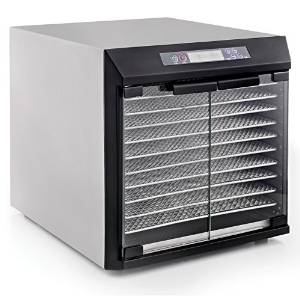 Older Excalibur models usually had plastic lining inside the drying cabinet even though most of the rest of the unit was stainless. They now seemed to have produced an all stainless unit. Here are the vital stats:
Case interior and exterior is made of Stainless Steel with Stainless Steel Trays
Transparent armored glass doors
48 Hour Digital Timer
10 large trays, 15.63 sq ft of drying space
Adjustable Thermostat 95◦F to 165◦F
6.5-inch fan, 600 watts
17-1/4 W x 20-1/2 D x 17 T
Made in the USA, 10 Year Warranty
Priced at around $US1000
Click here for more information on this dehydrator. As it is new to the market, reviews seem to be limited.