Vital stats:
water-proof;
breathable;
half length side zipper on right hand side;
lightweight - claimed 241g, measured at 243g;
Size
The bivvy is just big enough to fit my Thermarest NeoAir and Mont Hotwire sleeping bag (250g down, about 3cm of loft). Length is great and is comfortable for 6ft sleeper. Foot end is boxed and roomy. If you're not a skinny guy then room across the shoulders or chest may be an issue, particularly with a higher lofting bag.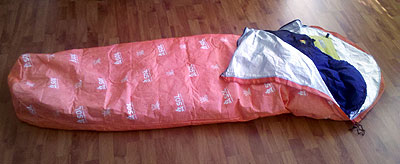 Best price I've been able to find recently has been from Amazon for around $30
.