This has to be the smallest tank bag out there. I designed it to fit my Nokia 6120c and nothing else. Total weight is 12g and its about 150mm long, 50mm wide and 20mm high. Its not really for cycle touring, but more as a place to keep my phone for when I'm out riding. Jersey pockets are a great place for your phone, until someone calls you mid ride and you've got to dig the phone out and see whether its worth answering the call or not.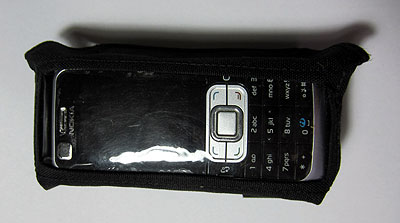 The phone slips into the side and it can be mounted on the top tube in either direction so left or right hand use is possible.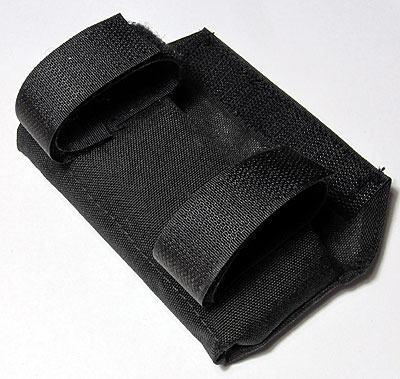 Its made out of a single sheet of 500D cordura that is folded over itself on the bottom to sandwich some closed cell foam for padding, and then comes up over the top for the window and access flap. The window is made from a 0.5mm thick plastic that is a UV resistant, non-yellowing clear plastic for outdoor marine and camping use. Not sure what its called but its super tough. Two velcro straps hold it onto the top tube. I didn't include a strap for the steerer as the top tube on my Anthem X is flat, so when tight it won't rotate. The strap also goes around and under the front derailleur cable so it can't slide back.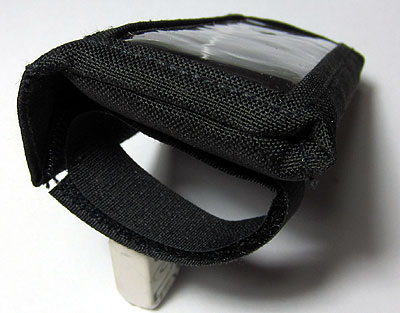 The flap that holds the phone in has velcro on it which engages with the velcro on the top tube straps.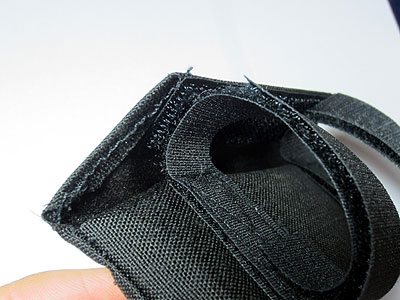 The bottom of the bag is padded, so the phone's got some shock protection against the top tube.
When I'm not using it on my bike, I can use it on my pack's hip belt.
The pattern looks like this (the numbers are a guide to the sewing order):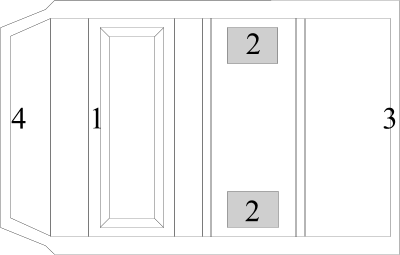 1 - cut out the hole for the clear window and sew the clear window in place. Hem the edges of the window by folding the fabric back on itself at the same time;
2 - stitch the velcro tabs on - make sure the loop side faces where the closure flap will eventually go;
3 - put the foam into the bottom and fold over and stitch to enclose the foam padding;
4 - hem the closure flap and sew the hook side of some velcro to the inside of the flap at the same time;
5 - turn everything inside out and stitch the open edges;
6 - turn it back right side out and you're done.