Quick facts
rotor made from 1.9mm stainless steel;
rotor is surface ground; and
160mm diameter rotor weighs 77g.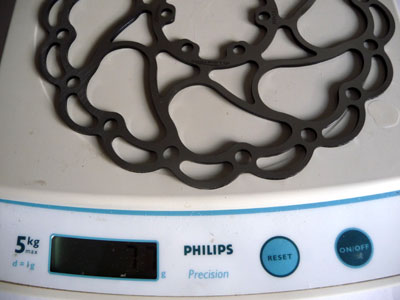 The thing I like about this style of rotor is that there is an almost consistent amount of material in the swept part of the rotor at various distances from its centre. This means that the rotor should wear relatively evenly across the braking surface. Compare this design to the Hygia SLP rotors that have worn quite quickly in the more open centre part of the braking surface.
Update
After putting several thousand km on these rotors they are wearing extremely well, even with lots of use in mud and rain.
What is a bit of a problem is that they seem to gouge the centre of the pads, leading to fast pad wear and reduced braking power. I did not notice this pad gouging with either the Hygia SLP rotors or Ashima AiRotor's .
I've subsequently switched over the 2012 XX HSX rotors (heavier) which have a much more consistent braking surface.