Discobrakes claims that these soft organic ceramic fiber disc brake pads are "carbonized" and that the "ceramic compound insulates the brake system from friction heat up to 400°C".
The pads are actually made by gigapower and the XTR versions I use have a model number GB-835.
Over the past 6 months I've been using the discobrakes Alu Super Light but have had some issues with longevity in the wet, but more importantly susceptibility to brake fade on really long descents where you're continuously applying the brakes to control speed. I'm hoping these pads will provide a little more fade resistant than the Alu Super Lights (which are more than fine for XC duties but are definitely at their limit in the really big mountains).
Weight
These pads weigh 16g for one set.
In use
Braking power is definitely increased over the Alu Super Light versions which use a semi-metallic compound.
In the wet, they produce good amounts of power and are virtually silent. On my last wet ride I ran a set of the Ceramic Pro's in the front and the Alu Super Light in rear to get some sort of comparison going. The Alu Super Light's squealed much more than the Ceramic Pros and had less initial bite in the wet.
Update
I've put around 50km on this set of pads on the front and I thought I'd pull the pads to see what the wear is like. Disappointingly, one of the pads seems to be breaking down in the middle: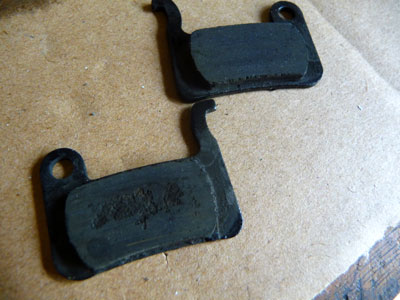 I'm wondering whether it isn't the Alligator Aries rotors doing this to the pads. Anyway, with the wet weather back again I've switched to the SRAM XX HSX 2012 rotor on the front. I'll update this page with wear results and performance on that rotor.
Further update - ceramic pro pads and SRAM XX HSX 2012 rotor
So far (about 80km, 30km in the wet) this seems like a good combo. The large braking area of the SRAM XX HSX 2012 rotor means that you don't get the pulsing effect on the front that you get with the Alligator Aries and Ashima AiRotor rotors. Power is noticeably increased over those other ultralight rotors in the dry and is greatly increased in the wet. With large amounts of mud and rain on the rotor the pads do squeal slightly on initial braking before the rotor dries off.