The Hygia SLP brakes start out as a fairly light set of disc brakes. The rotors at less than 80g each are already about as light as you can go without resorting to titanium, aluminum or some other exotic brake rotor material.
There is, however, still a fair amount of tuning potential in the rest of the system: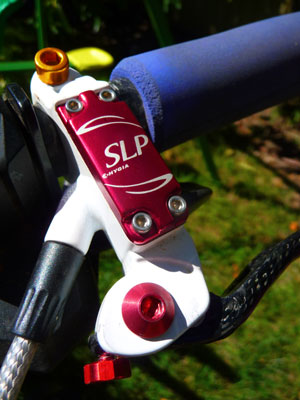 Bolt replacement
Ti rotor bolts save 8g over stock;
Ti mounting bolts (6 x assuming you need a post mount rear adapter and are running 160mm rotors front and rear) save 20g over the stock bolts;
Aluminum bolts for the clamp and brake lever pivot bolt will save 10g;
Post mount adapter
If your frame requires a post mount adapter for the rear then you can use a Shimano post mount rear adapter which is lighter than the stock Hygia 160mm rear post mount adapter - a Shimano adapter will save you 12g, the newer Shimano XTR adapter will save you 16g over the stock adapter.
Brake hose replacement
The Hygia braided brake hose is fairly heavy at about 45g/m. Replacing the hose with a lighter weight hydraulic brake hose such as the carboncycles hose at 19g/m will drop about 65g (depending on how long your brake hoses are).
| | | |
| --- | --- | --- |
| Hydraulic hose weights | Weight | Units |
| Jagwire Hyflow | 23 | g/m |
| Goodridge braided | 45 | g/m |
| Discobrakes | 19 | g/m |
| Magura HS33 mineral oil hose | 15 | g/m |
| Hope hose | 16.3 | g/m |
The braided front hose assembly weighs 41g. A replacement hose made from Discobrakes lightweight brake line weighs 22g.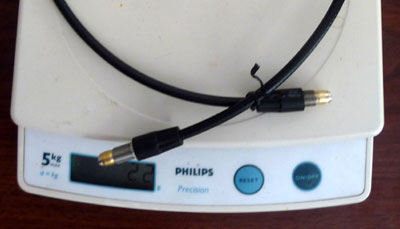 Warning - at least a few other users have reported that the Hygia barbs do not work with the Discobrakes hose. Its possible that Discobrakes changed hose type so that more recent hose now has a smaller internal diameter that does not work with the slightly larger Hygia barbs.
I had to re-use the hygia barbs as I have not been able to find an equivalent amongst the major brake manufacturers. Here are some close-up pictures of the hygia barb:
Side on: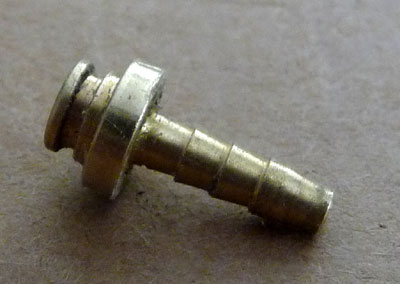 End on: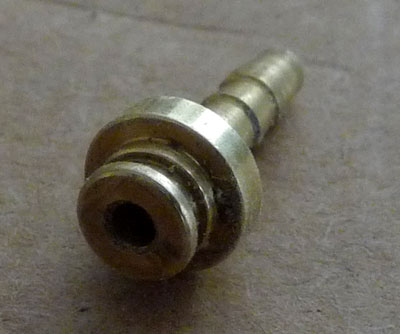 Dimensions:
o-ring groove diameter: 4mm;
o-ring groove width: 1mm;
barb end width: 5mm;
barb flange diameter: 7mm;
barb depth to flange: 2.4mm
Brake pads
The stock Hygia SLP brake pads weigh 18g/set. As the Hygia SLP uses the same type of brake pads as Shimano XTR/XT/SLX, there are a range of lighter brake pads to choose from such as:
| | | |
| --- | --- | --- |
| Shimano XTR Disc Brake Metallic Pads with Ti backing plates | 15 | g/set |
| A2Z ultralight pads (aluminum backed) | 11 | g/set |
| Discobrakes Ultralight Pads (aluminum backed) | 8 | g/set |
A2Z ultralight pads (aluminum backed)
A2Z aluminum backed ultralight pads are a semi-metallic compound and really do weigh 8g/set: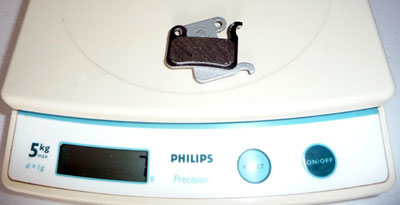 Using a the A2Z ultralight pads front and rear will save 20g over the stock pads.
Carbon fibre brake levers
Hygia are now making carbon fibre brake levers. The weight of the stock aluminium levers is extremely good. There is not a lot of tuning potential here because they are already seriously lightweight. I have, however, found them to be fairly flexy, so when I made a set of carbon fibre levers they ended up the same weight as the aluminium levers but were much stronger.
Hygia are now making factory carbon fibre levers for the SLPs. They weigh 6g each (about a 2g saving over the aluminium levers).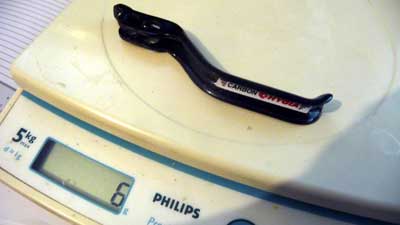 Ceramic pistons
Hygia have also released a ceramic piston upgrade for the SLPs, Usagis and Elites. The claimed advantages for the ceramic pistons are better heat insulation between the pads and brake fluid. This should add some fade resistance to the braking system.
Total weight - front set - 198g
With all of the mods mentioned above (but not the ceramic pistons), my Hygia SLP front set weigh 198g: