What do you need?
Very little. To make your own brake lines you need:
fittings for both ends - nuts and barbs can be re-used, olives should really not be reused;
sharp knife; and
some way to hold the brake line when you press in the barbs
Something nice to have
Not essential, but it sure makes life easier - a brake line olive "end press". This device basically holds the brake line and then you turn the screw to press the barb into the end of the brake line straight. Makes a fiddly job ever so easy. I picked this one up for $10. For that price, even if you only use it once its well worth it. Not sure what they normally retail for.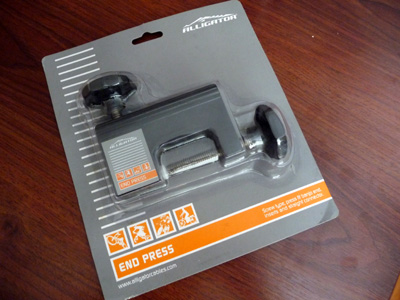 Step 1 - cut the brake line
Use a sharp knife, razor blade etc. I use a fresh scalpel blade which produces a very neat cut. Without a sharp blade you will "tear" and tease-out the kevlar reinforcing which makes for a messy final product.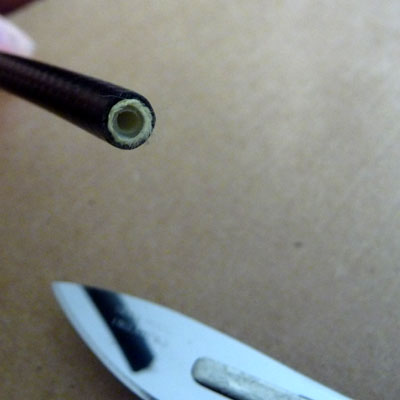 Step 2 - put the fittings on
Put your fittings on in the following order:
nut cover;
compression nut; then
olive.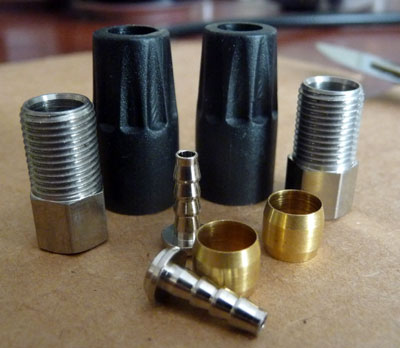 Step 3 - press in barb
Press the barb into the end of the hose. Make sure that the barb is going inside the inner plastic tube and not pushing the plastic tube back inside the hose. You can "flare" the inner tube slightly with a scribe and also use some brake fluid (or mineral oil if Shimano/Magura brakes) to provide some lubrication for the barb. Its here when the end press makes things easy.
You're done
Finished front brake line - 22g!