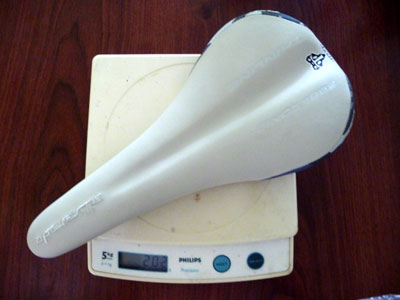 WTB describes this as one of their "racing saddles". The weight is fairly light at 202g but there are many other saddle options lighter than this. High end all carbon saddles are now getting down to the sub 80g mark, so at 202g this saddle really has to offer lots of comfort to make up for the weight penalty.
How comfortable is this saddle?
Saddle comfort is largely a personal thing. What suits one rider may feel like the proverbial ass-hatchet to someone else.
I've always like WTB Laser saddles and have found them supremely comfortable. The WTB Laser saddle with titanium rails weighs 228g and feels slightly more comfortable that the Silverado.
That's not to say that the Silverado is an uncomfortable saddle. Although the padding is less than the Laser, the flex-tuned shell goes a long way to adding comfort.
This saddle is longer, slightly narrower and firmer in the padding than the Laser. This makes it a little easier to move around on.
Like almost everything nowadays the saddle is made in China. Quality seems good with the seatcover being nicely stretched and properly stappled down to the "flex-tuned" shell.
Update
After putting several thousand kms on this saddle, I found it to get progressively more and more uncomfortable. I ended going back to my WTB Laser saddle which is much more comfortable, albeit about 30g heavier.
More recently I have upgraded to a San Marco Aspide saddle that is 100g lighter than the laser v and every bit as comfortable.