Here's some information on brake levers that I've used on my kids bikes and that work nicely for little hands.
Promax
A BMX type lever compatible with canti-brakes and v-brakes with 'mini' or short length arms.
Small lever great for little hands. Lever is also short so kids can easily 2-finger brake without jamming their remaining fingers;
Lots of reach adjustment - as pictured reach is adjusted down a long way (about 25mm between the lever and bars);
works well with Shimano Deore 9 speed shifter pod - clamp on brake lever is narrow so shifter pod can be moved close to where little hands need it;
unknown weight.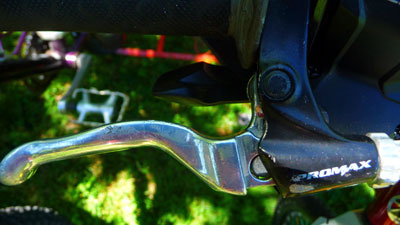 Tektro
V-brake compatible lever.
light weight;
seems quite strong for the weight;
cheap;
good reach adjustment - pics shows adjusted down to 30mm from bars, could go more - adjustment screw is barely adjusted in as pictured;
longer lever than Promax, better for slightly bigger hands (like those of a 10 year old).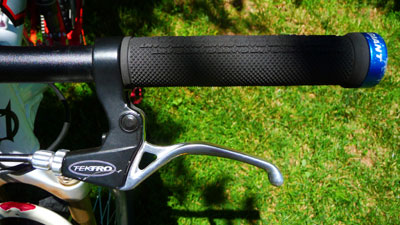 Shimano Deore v-brake/shifter levers
Integrated Shimano Deore v-brake/shifter levers with 9-speed shifter.
lever position starts out further from bars than Tektro, but offers plenty of adjustment so that levers can be moved in to the same position as Tektro's (eg. 30mm from bars). Still plenty of adjustment left at this distance;
heavier than Tektro lever;
slightly longer lever than Tektro;
no servo wave on these levers.