Vital stats:
weight: 134g (claimed 129g);
dimensions: 131 x 277mm;
rail material: full carbon;
rail type: oval - 6 x 9mm, compatible with KCNC Scandium Ti pro lite seatpost ;
base material: carbon;
covering: black microfeel imitation leather;
padding: eva foam;
Design
The carbon rails seem well made and are oval in cross section with an internal aluminium strengthener.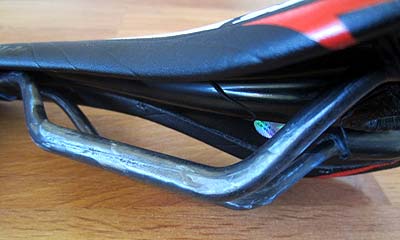 The saddle has a nice curved down nose which should make getting forward on the saddle on those really steep and techno climbs a little more comfortable (or a little less uncomfortable).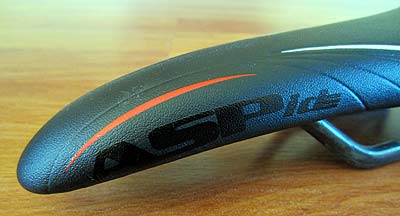 Comfort
This is not a particularly wide saddle so you'll need a skinny backside for it to be comfortable.
Unlike full carbon saddles, this ones got some padding and is surprisingly comfortable for a 130g saddle. It felt good on my first 60km ride on it and I'm looking forward to seeing how it goes on some all day epics.
Straight off the bat I think its more comfortable than the WTB Silverado. It feels firmer than the WTB Laser V which I rate as an extremely comfortable saddle, but I have noticed on the really long rides that after 6 or so hours in the saddle even the Laser V feels uncomfortable. There is a school of thought that firmer and narrower saddles can be more comfortable on the longer rides because of their interaction with the sit bones. I got this saddle to experiment in that regard.
Packaging and manufacturer claims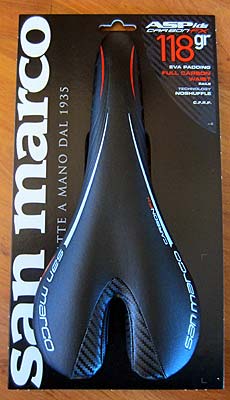 The saddle comes packaged in an attractive black cardbox retail box that opens up to reveal the saddle wrapped in tissue paper and attached to a piece of cardboard that proudly bears a seriously optimistic "118gr" printed in big red letters. Not sure why they do this as the saddle clearly does not weigh close to 118g and both the sticker on the outside of the box and the san marco website gives the weight at 129g.