Update 2021
Over the last several years there have been a few additions to short cranks. In particular, the GANOPPER MTB Crank Arm Set looks to be good value and comes with a 30T narrow wide chainring. It also features a 104BCD for chainring mounting so there will be no shortage of alternative chain rings available.
Sugino
From time to time you can find Sugino triple ring cranks on Fleabay for around $120 in 152mm crank arm lengths. Unfortunately, for kids use the chain rings they come with are not the most practicable. The set I got had a 52T big ring - not exactly something your average 10 year old can use on or off road. The other rings were a 36t middle and a 24t granny ring.
Update: I have recently seen these on Amazon for around $100 - sugino 152mm crankset
.
For kids, a dual ring setup with 36/24t combo provides a good range of gears for the typical 14-28t 7 speed rear cassette often found on the cheaper kids bikes. If your kids bike can take an 8 or 9 speed cassette then you can get a similar gearing range with a single 32t front and 11-34t rear cassette.
The BCD on these cranks is 110mm.
The Sugino crankset weighs 711g. To that you'll need to add the weight of your square taper bottom bracket of choice.
FMF
Crank arms from FMF are available for the BMX crowd in a great range of sizes - basically in 5mm increments from around 130mm upwards.
There are a limited range of crank arm castings that FMF (and others) use, so depending on the size you get there may be an excess of material further out than the pedal spindle. You can carefully cut this excess material away to save a bit of weight. Just make sure you leave enough so that you don't weaken that part of the crank.
The FMF cranks use a 110mm BCD but the only take a single chainring. One possible solution to get a double ring set-up going is to use the Compact Road Triple-lizer from IRD.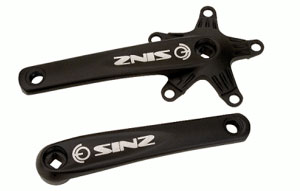 Sinz
Sinz Expert Crank arms
come in a wide range of sizes from 135mm to 175mm. Like the FMF crank arms they use a 110mm BCD but unlike the FMF's with the Sinz you can run a double chainring setup. The weight of the 135mm arms is claimed at 14.7oz or 416g.
Redline Microline Crank Arms
Square taper crank arms with 110BCD. These guys come as small as 130mm.
Indeed, the entire Redline Microline
range of components is a useful source of kids sized bike stuff.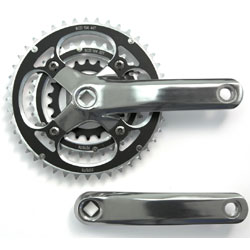 Lasco 152mm cranks
Utah Trikes offer a nice looking 152mm triple ring crank with 22-32-44t chain rings for $75. It uses a square taper bottom bracket and looks from the pictures like a nice bit of kit at a good price.
Action Jr Triple
Probably the best value 152mm triple crankset I've come across is the Action Jr Triple
. It has alloy crank arms, takes a square taper bottom bracket and uses the popular 4-bolt pattern for chainrings. Often available for less than $30. Replace the steel chainrings with some quality chainrings
and you've got an awesome set of short cranks.
Velocity Cranks
Bomb shell parts makes some 104BCD 4-arm cranks for what looks like ISIS bottom brackets in short lengths (155, 160, 165mm and up) - Velocity Cranks.
Middleburn Cranks
Middleburn make cranks in a range of sizes. They seem lightweight, well-made and feature removable spiders and work with square taper bottom brackets. XC71 has a set of 160mm one with the crank arms and triple ring spider together weighing 439g.
Trailcraft Cranks
Custom Trailcraft Cranks 152mm, 22Tx32T Plus Bash Guard 615 grams. Uses square taper style bottom bracket. www.trailcraftcycles.com/products/elevated-cranks
Driveline Cranks
Driveline crankset 44/32/22, all aluminium, 155mm crank length - www.mrrecumbenttrikes.com/parts.html
Thorn 104/64 PCD Triple Crankset MK2
Alloy forged crank arms, 104/64mm BCD, JIS Square Taper, 565g (150mm), available in 150mm, 155mm, 160mm and 165mm, so a good range of kids sizes - www.sjscycles.co.uk/thorn-104-64-pcd-triple-crankset-mk2-black-prod31813
GT Speed cranks
These look really interesting. Two piece cranks with alu spindle and 104BCD 4-bolt spider - www.acebmx.com/cranks-with-bb-c-1_8/gt-speed-aluminum-cranks-black-2014-p-5024.html.
Shortening longer cranks
An alternate approach to buying short cranks is to shorten an existing set of long cranks.
If you're in the US then Bikesmith Design & Fabrication offer a crankarm shortening service where they are able to shorten certain types of cranks by 22mm, so a 175mm crank becomes a 153mm crank and a 170mm crank becomes a 148mm crank. These shortened cranks would be perfect for kids.
For riders in the UK Highpath Engineering offer crank shortening.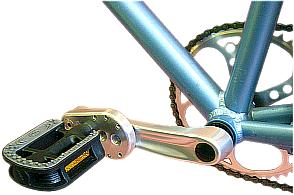 Crank Shorteners
Another approach is to use a bolt on adapter to shorten the crank arms. Highpath Engineering make such adapters but because they bolt onto the outside of the cranks the Q-factor will end up being huge, which isn't too great for a kids bike.