The above shock came off a Giant Anthem X3 2010 model. The compression and rebound tune indicators on the air can show the middle level tuning for both compression and rebound.
The shock has Fox's "pro-pedal" platform damping but there are no user adjustments to this available unlike on the RP2/RP3/RP23 shocks.
Shock mounting
Eyelet size on this shock is 15mm (see right end of shock in the picture). With bushings installed (see left end in picture) the inner diameter is 12.5mm. Interestingly, on the Anthem X Giant does not use a bushing in the shock where it mounts to the lower Maestro link.
Adjustment
On the Anthem X3 for a 72kg rider I found that 140psi gave around 8mm sag for a great feeling ride.
The shock features rebound adjust via the red knob - clockwise makes the shock rebound slower. The rebound adjustment on this shock had 9 clicks.
I found the rebound sweet-spot to be between 6 and 7 clicks from fully counter-clockwise.
Shock sag indicator O-ring
If you have lost or never had the shock sag indicator O-ring then the size is 2mm x 25mm or thereabouts.
Problems
This shock is off the bike to send away for warranty repair. It is a good performing shock on the Anthem X but over the course of one ride it lost proper rebound adjustment such that clicks 1-7 had no noticeable rebound damping but 8 and 9 had so much that the shock barely moved.
Valving
Here is the propedal/compression shim stack:

Here are a couple of diagrams that show how the propedal comp stack on the Float R works: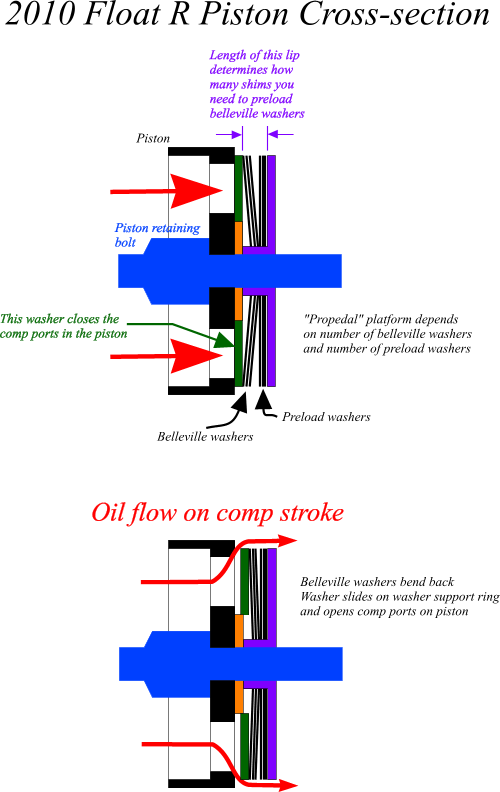 Re-valving the propedal / compression stack
Propedal and compression damping on the Float R can be changed by adding or removing belleville washers and making up the resultant stack height by adding or removing the spacer washers.
If you lighten the compression damping by removing some of the belleville washers you will need to add more of the spacer washers to ensure that the remaining belleville washers are preloaded against the comp checkplate/washer.
Piston bolt
The Float R piston bolt is different to the RP series shocks. It features a grub screw, behind which is a small spring and plastic poppet valve for the rebound bypass/adjuster circuit. There is no propedal bypass in the Float R piston bolt: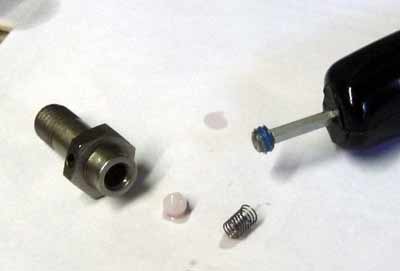 Rebound operation / oil flow diagram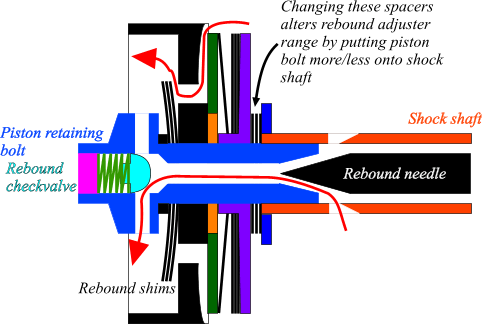 Rebound stack