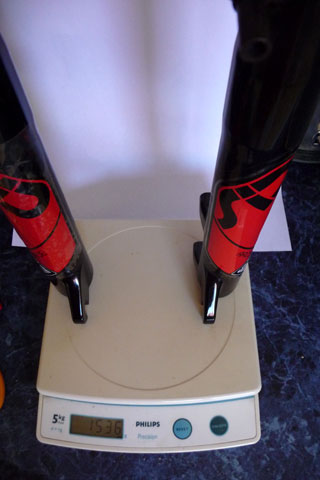 What does it weigh?
The 2009 Rockshox SID Race with v-brake bosses, uncut steerer and the 20mm All Travel adjust spacer removed to give 100mm travel weighs 1536 g (3.38 lbs).
Can you convert 80mm 2009/2010 SIDs to 100mm?
You sure can. See Rockshox SID Race 2009/2010 Adding/Removing All Travel Spacer
If you really want black SIDs then order the SID Race 80mm ones and change them to 100mm. Other than the all travel spacer there seems to be no difference between 80mm and 100mm versions.
What are the v-brake boss dimensions?
The v-brake bosses on the SID Race have M8 x 1.0 threads that are 12.5mm long. The factory uses blue loctite on the boss threads (Loctite 243 which is a threadlocker oil resistant medium strength loctite). The bosses weigh 20g for the pair. Replacing these with titanium bosses (at about 12g a pair) will save you 8g.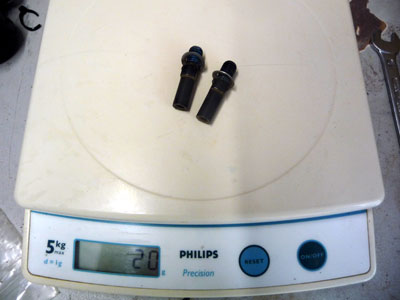 What's in the retail box?
You get a Rochshox shock pump, two 10mm all travel adjustment spacers, a star nut for the steerer tube, some decals in red, green, orange and pink (the fork comes with silver decals applied), a Rockshox frame sticker, a black zip tie to hold your disc brake cable to the fork bridge and the fork manual.
What's not in the box / manual?
The manual that comes with the forks is really just a very basic installation guide. It explains nothing about the fork and really doesn't have any SID specific information at all.
What do I need to add a remote lockout (poploc/pushloc) to my SID Race fork?
You need two things, the lever (either poploc or pushloc) and a replacement motion control damper that is compatible with the lever. The remote control motion control damper has a spring loaded return to the compression knob so that without the handlebar control lever it rests in the fully open (least compression) setting. The standard non-remote motion control damper does not have a spring loaded compression return (otherwise the compression knob on top would not stay in place).