Machine up a v-brake boss adapter from 4mm aluminium plate: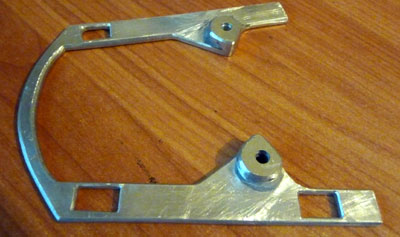 Proof of concept / test bolt-up to frame using hose clamps: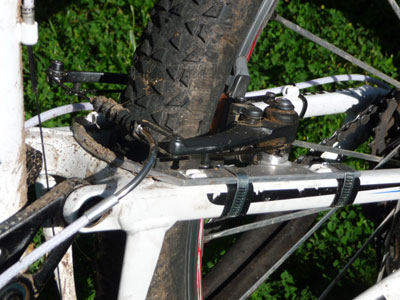 Initial findings and results
The adapter works well, even when only held in place using hose clamps. The Anthem X rear triangle is, however, a little flexy in the horizontal plane on the seat stays. Put simply, if you really squeeze the brakes hard you can see the seat stays flex outward slightly.
A brake booster is probably needed, but unfortunately a custom made job will be required as there is very little room at the top of the triangle. A standard sort of brake booster might contact the seat tube at full travel of the rear suspension.
Refinements
Now that I know the system works in practice, the hose clamps can be replaced with kevlar and carbon fibre. An initial kevlar wrap will be used to prevent direct contact of the carbon fiber to the aluminium (to prevent any electrochemical reaction taking place). Over the top will be the uni-directional carbon fibre wrapped radially. A final layer of your more traditional carbon fibre will be added to finish.
It is possible that the carbon/kevlar composite wrap will stiffen the rear triangle as well such that a brake booster will not be needed. If a brake booster is still required then I'll probably make a composite one to suit.