This is the thing to use if you have a 68mm BSA frame and want to use the Specialized s-works carbon mountain crank arms.
Bottom bracket weight is 81g: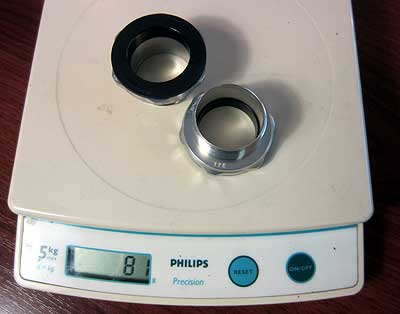 Long term review
After 3 years of use (and over 16,000km) in the dirt and mud, the drive side bottom bracket bearings are now on the way out. I have repacked the bearings with marine grade water resistant grease every year, but now the drive-side bearing is starting to feel rough. I must say, I'm impressed with how long the bearings have lasted.
Update - January 2016
e13 appear to have changed the design of these bottom bracket cups since the original set that I bought. The bearings in the cups seem larger and the 30mm cranks spindle now runs directly on the inside of the bearing (without the black plastic spacers). The outer seal now runs on the crank spindle as well. Weight has also slightly increased to 84g.