Crank is made from aluminium, has a removable spider and uses a square taper bottom bracket.
Bolt circle diameter (BCD) for big and middle rings is 104mm. Granny ring uses a 64mm BCD. Chainrings are mounted using 4 bolts.
The arms are wide and the outer face of the arms is perpendicular to the pedal hole for approximately 93mm. This makes these cranks great candidates for.
What do they weigh?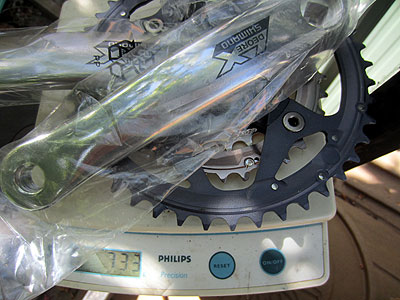 For a 170mm set:
total weight (without bottom bracket or crankarm bolts) 733g;
driveside crankarm without chainrings weighs 299g;
non-driveside crankarm without chainrings weighs 234g;
crankarm bolts weigh 29g for the pair;
22t steel granny ring weighhs 19g;
32t steel middle ring weights 39g;
44t pressed aluminium big ring weighs 81g;
granny ring bolts weigh 12g for 4;
middle/big ring bolts weigh 20g for 4.
Availability
These cranks are now hard to get. Newer equivalents include the Shimano FC-M590 Deore
and Shimano M591 Deore
cranks. These have the advantage of using Shimano's hollowtech bottom bracket (although the crank arms are not hollow forged).