Can you do it?
Yes. There's absolutely no problem with using a 10 speed chain on a 9 speed road or mountain drivetrain. Indeed, there are a few advantages:
the ten speed chains weigh less - its possible to save around 40g in weight by switching from an ordinary 9 speed chain to a 10 speed lightweight chain;
the narrower 10 speed chains shift a little better than the 9 speed chains; and
the narrower 10 speed chains also are less prone to rub on the front derailleur cage when running the extreme cross-chaining options.
KMC X10SL superlite chain
One such chain is the KMC X10SL super lightweight chain
. It features a gold coloured Titanium Nitride ("Ti-N") coating that is supposed to make the chain less susceptible to dirt and easier to clean. The chain also has hollow pins and material removed from the side plates to save weight.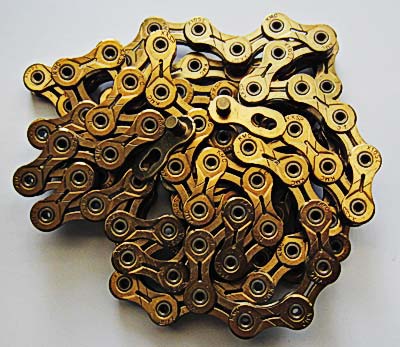 Out of the box, the full length chain weighs 246g including joining link. In comparison, the standard KMC 9 speed chain weighs 285g.