In Shimano's infinite wisdom ('change for change's sake'), the XT 760 and XT 770 middle rings are different.
How are they different?
Here's the mounting tab on the M760 crankarm: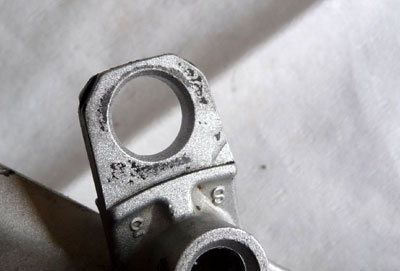 Here's what the M760 32t chainring looks like where it interfaces with the mounting tab: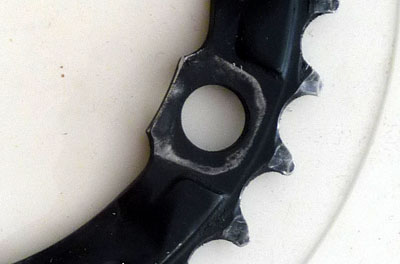 Here's a close-up of the same portion of the M770 chainring: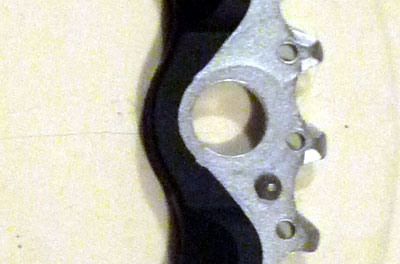 Here's what it looks like with the M770 chainring laid over the M760 crankarm: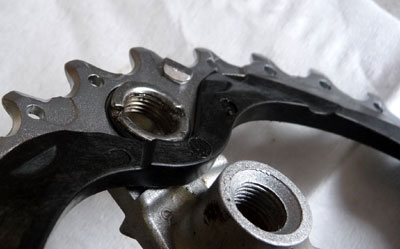 Making the M770 32t chainring fit on the M760 crankarm
Firstly, don't do this unless you have a spare M770 32t chainring that you need to use. The whole process is a waste of time. For starters, the M770 chainring weighs more than the M760 chainring (what were the guys at Shimano thinking)? M770 32t chainring weighs 54g and the M760 32t chainring weighs 42g. The M770 is also more expensive than the M760. So unless you've practically got the M770 chainring for free, or its all you've got at hand in an emergency or both (my situation), then don't bother!
The excess material on the M770 chainring is some sort of composite plastic. This is the good news as its easy to remove with a dremel.
The steps:
clamp your old M760 chainring and the new M770 chainring together using the crank bolts;
hold the chainrings in a vice carefully using soft jaws so you don't deform the chainrings;
use the old chainring as a guide to remove the excess material - you don't need to remove the full width, just rebate it enough to clear the mounting tabs on the crankarms.
Here's a picture of what it should look like once you've machined away the excess material: