The KMC X10SL superlite chain is a lightweight 10 speed chain that works equally well with 9 speed clusters, chainrings and shifters.
It features a gold coloured Titanium Nitride ("Ti-N") coating that is supposed to make the chain less susceptible to dirt and easier to clean. The chain also has hollow pins and material removed from the side plates to save weight.
You can also get a silver version of the chain, which does not seem to have the TiN coating (but strangely is often more expensive than the gold TiN version). I just buy the cheapest (gold or silver) I can get at the time. If you shop around, expect to pay about $40 delivered.
Out of the box, the full length chain weighs 246g including joining link. In comparison, the standard KMC 9 speed chain weighs 285g. These chains will save around 45g in weight over the XTR/Dura Ace 9 speed chains.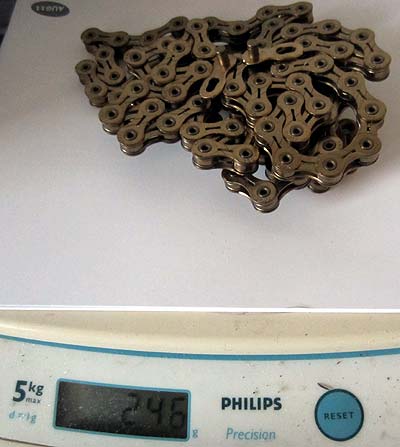 Older and newer versions
There seems to be two different versions of this chain available. The one pictured above is the latest version, but there is an earlier version that features double cutouts on the side plates (see Type 2 version below).

How much?
Prices on these chains vary greatly
. As KMC's top of the line chain, expect to pay upwards of $80 at your local bike store (if they even have them in stock. Generally, if you get them for around $40
then that's good buying.
Chain related essentials