Forgot what Shimano tells you, the Hollowtech II outboard bearings are user serviceable - or at least 're-greasable'.
You can do this on the bike or you can remove the cups.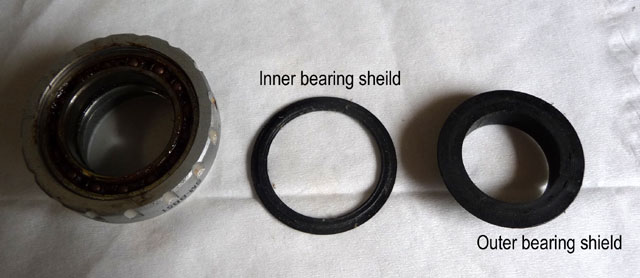 Step 1 - remove your cranks
Undo the bearing preload bolt from the left crankarm, then loosen the two 6mm allen head bolts, take off the left crankarm and then remove the right/chainside crankarm which will withdraw the crank spindle as well.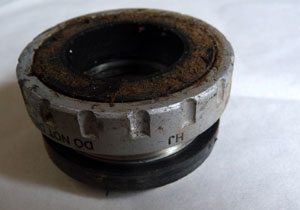 Step 2 - pry off the outer shield
The outer shield is made from thin hard brittle plastic. Use a small jeweler's screwdriver to pry it up on the outer edge to get a large flat blade screwdriver under there. Gently pry it up and out.
Step 3 - remove the inner seal
Use your small jeweler's screwdriver to pry it up on inner bearing seal (some bottom brackets may not have this). Note which way it goes so you can reassemble afterward.
Step 4 - clean the bearing
If the bearing and its grease look good, then you can simply pack more grease in. If its dirty, then its a good idea to clean with a suitable solvent. Mineral turps works quite well. Petrol will work OK as well.
Step 5 - repack
Repack the bearing with some suitable grease. The sort of grease you want to use is grease that has a high resistance to water. There are any number of marine type greases that will work well in this application. Make sure you fully pack the bearing with grease. The grease serves two purposes, lubricating the bearing and keeping water out. Only a little is required to lubricate the bearing, but you need to fully pack the bearing with grease to keep water out.
Step 7 - put it back together
Reverse of disassembly. If your bearing setup uses an inner bearing shield then coat it liberally in grease before putting on the outer bearing shield.
Some bearing pictures
This bearing has water damage - only 4 months old, so it must not have been properly packed with grease from the manufacturer: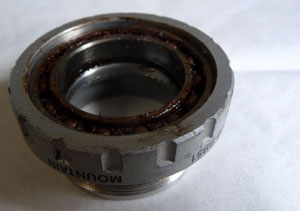 This bearing is in good condition but you can see how little grease there is from the factory. More grease will be needed to keep water out properly.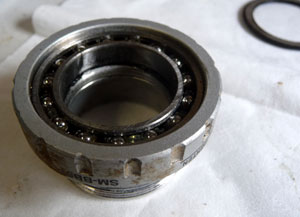 Bearings beyond service?
If your bearings are already so far gone that a re-grease will not do much good, then you can replace them. Click here for a diy bearing replacement faq
What are the dimensions of the standard hollowtech II bearings?
The dimensions of the standard hollowtech II bearings are as follows:
| | |
| --- | --- |
| Model number | 6805 |
| Outer diameter | 37mm |
| Inner diameter | 25mm |
| Width | 6mm |