For my daughter's latest build using 26" wheels I needed to come up with a wide ratio 9 speed cassette. I ended up putting together the following:
six largest gears from an XTR 11-34t cassette;
bottom two gears from an XTR 12-34t cassette, omitting the 15t.
This has resulted in the following gear ratios: 12, 14, 17, 20, 23, 26, 30, 34 and 40t. For such a wide range the ratios are nicely spaced.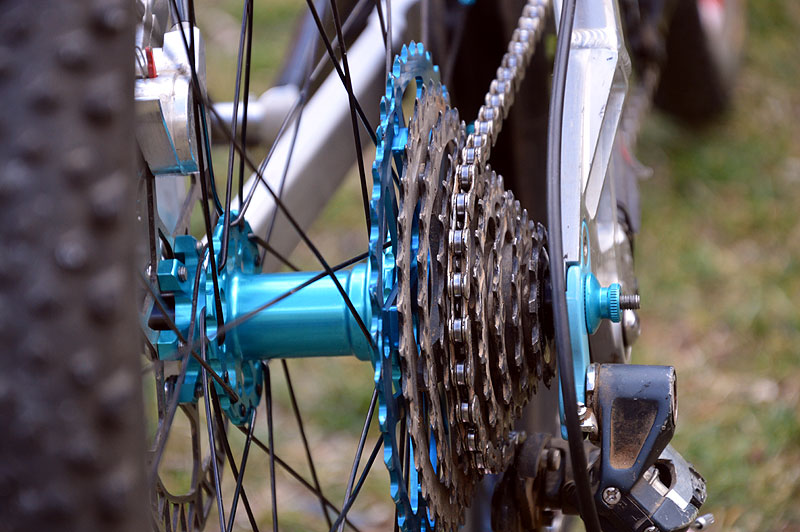 The 40t e*thirteen EX extended range cog is designed to work with a 10 speed 11-34t cassette, but fortunately the shift ramp positions on the 9 speed 34t are the same as on the 10 speed 34t, so shifting works perfectly.
I was also able to use a short cage XTR derailleur, also using the stock b-screw (albeit screwed all the way in).
Total weight 302g.
There's a few sellers on Amazon that have good prices on the EX cog
in red, blue and black.
Other possibilities
There are some other possibilities that I have not personally tested that may work:
12-42t
Using a Deore HG61 12-36t 9 speed cassette in conjunction with a 42t cog may work;
11-42t
11-40t
Using an XT 9-34 9 speed cassette looks like it would work, although when you remove a gear from the low end of the XT cassette its hard to avoid a big jump down to the 11t.
The problem with 11t cassettes
On closer examination of both the 11-34t XT and 11-34t SRAM PG990 cassettes, there is a slight problem. Both mate up to the 40t sprocket OK, but there is a problem at the other end of the cassette. Adding 40t big ring means you must remove a sprocket from somewhere else in the cassette range. With the 990 and XT cassettes, the 6 largest cogs are mounted on a carrier and the three smallest (15, 13 and 11t) are separate. You need to keep the 11t and the 15 is narrow, so removing it does not reduce the width of the cassette down by a gear. The only sprocket you can remove is the 13t, but it is also a little special - it has a machined groove into which the 11t fits. The 11t is also wider than normal 9 speed spacing because of the groove in the 13t. Without machining the 11t down, I don't think the 990 or XT cassettes will work properly.

Update - December 2016
There are now a few wide range options in 9 speed available:
Wide range 11-40t 10 speed cassettes
If you're looking for wide range 11-40 (or 11-42t) 10 speed cassettes then take a look here.
Get a new chain
If you're buying or building a new cassette, make sure you get a new chain to go with it. Using a worn chain on a new cassette will make the cassette wear out much quicker. I really like the KMC chains; They're cheap and last at least as long as the more expensive Shimano and SRAM offerings.