No one makes anything like this, so DIY is the only option.
How do you make it?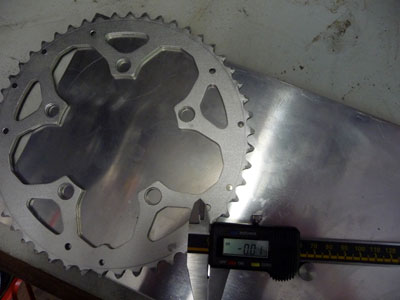 Get some 3mm aluminium plate. You could use thicker if you need it to be stronger.
Make a cutting template in the drawing program of your choice. The crazy looking curved lines in red actually point to where holes need to be drilled.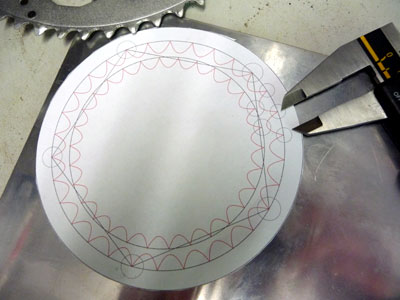 Print it out on some printer compatible sticker and stick it onto the aluminium plate.
Use your template to drill the necessary holes. The only holes that are really important are the mounting holes, so do these first. If you can't get these right then there's not much point in going further, so make sure you test the mounting holes before going any further. I used a spare chainring and the chainring mounting nuts to make sure that everything was perfect: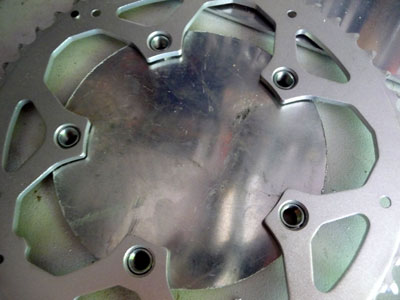 Drill as many other holes as you need/want for weight reduction. Here's a pic showing some hole drilling in progress. Always drill small pilot holes before drilling out to the final diameter.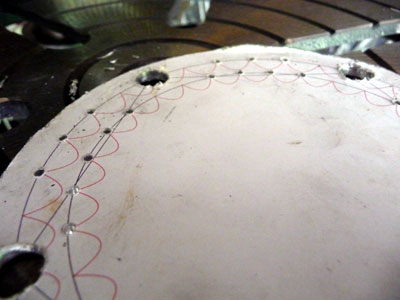 Chamfer the holes, just enough to neaten up the mounting holes but you can go bananas on the holes for lightening. All of the drilling was done using a drill press. You can use the adjustable stop when chamfering to set the drill depth and get all the chamfers looking nice and even.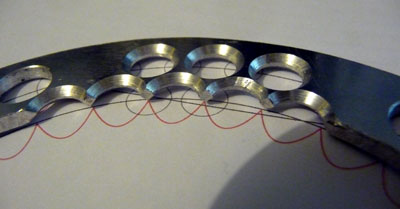 Cut the inside out, jigsaw, handsaw, dremel, whatever works for you.
Bolt it up to an existing chainring and use the chainring as a guide to remove just enough material so the ring will fit on the crank spider properly.
The finished product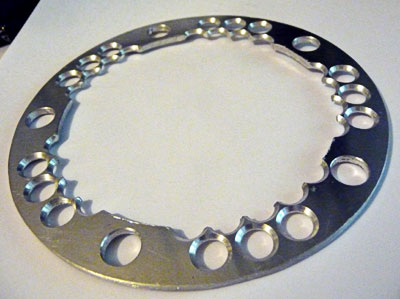 At this point in time you could give it a good polish or anodize it to improve the looks, but functionally it is done.
What's it weigh?
30g exactly. Its nice and light although it probably wouldn't handle smashing into too many rocks. Its real purpose is to protect the rider when running a 29t inner ring in single speed config.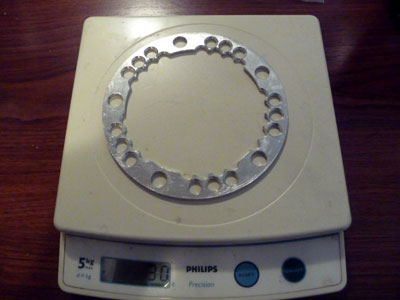 One the bike