Quick facts
Titanium spindles with 85kg rider weight limit;
Titanium body;
claimed weight is 210g/pair, actual weight on my scales is 218g/pair;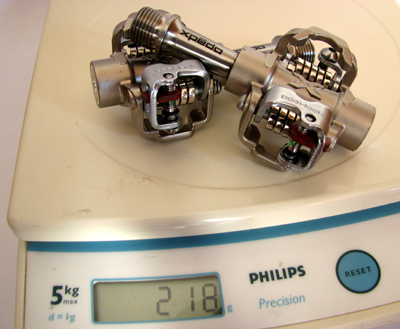 3 user replaceable cartridge bearings;
Xpedo cleats and screws are SPD compatible and weigh 64g but you can just use Shimano SPD cleats as well;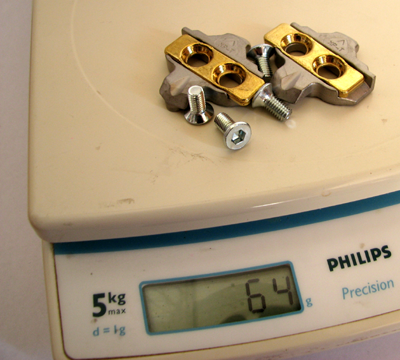 Setup / Installation
You'll need an 8mm allen key to mount the pedals and a 3mm allen key to adjust the cleat retention spring tension. You'll also need a 4mm allen key to the fit the cleats if you don't already have SPD type cleats on your shoes.
Disassembly
Pretty straightforward:
remove end cap with 6mm allen key;
hold spindle with 8mm pedal and use a 10mm socket to remove retaining nut;
remove spindle.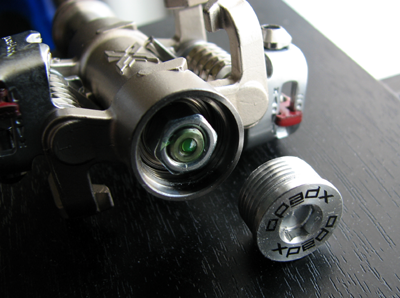 Update
I've got a bit more than 7500km on these pedals and they are still going strong. The bearings are still good even though these pedals have been ridden though rain, hail and shine.
I had to replace the cleats at around the 7000km mark. My right foot started popping out when bunny hopping and off some jumps. Initially, I thought that the the pedals just needed more tension on the retention springs, but ven maxing the tension did not make any real difference. I then tried the pedals with my spare shoes tha have Shimano SPD cleats on them and the pedals were once again perfect.
Replacement cleats
Buying replacement cleats was much harder than it should have been. No one in Australia had any in stock or were expecting any. None were available on eBay. As a result I had to buy them from the Xpedo store in Americap. The good news was that the cleats were in stock and reasonably priced at $16 a set. The bad news was that store does not ship internationally so I had to get them posted to a US address.
However I can confirm that the pedals are fully compatible with Shimano SPD cleats. There is a slight benefit tot the Xpedo cleats and that is they have a flat area either side of the mounting screws that provides a bit more of platform than normal SPD cleats and rests on the two special flats on the pedal body that exist for this purpose.