What do they weigh?
Front weighs 43g: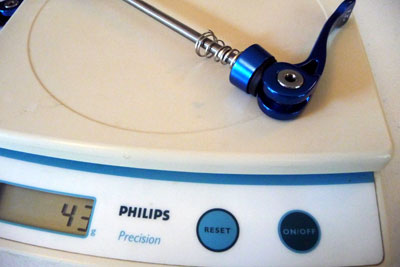 Rear weighs 45g: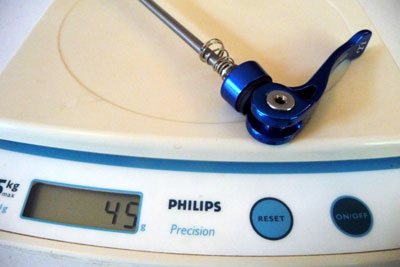 What are they like?
At a total weight of 88g these skewers are lighter than normal CrMo or steel skewers. but there are weight weenie skewers available that weight less than 50g for the pair.
What is good about these skewers is that they provide lots of clamping force, unlike some of the lighter skewer options. Indeed, they seem quite a bit more robust than the Amoeba Titanium skewers which are only a few grams lighter. The handles of the A2Z skewers are better and allow more clamping leverage and force.
They seem to be a quality made item. The handles are CNC'd from aluminium and are shaped nicely. The cam lock provides a nice positive engagement so there should be little chance of them coming loose.
The only slight negative is that the curved spacer that the handle cam presses up against is made from plastic. It does, however, seem like an extremely hard plastic so its still possible to get good clamping force.