These are Continental's ultimate weight weenie race tyres. They are only available in one size - a scant 1.9 and when inflated on the rim they do look small compared to the awesome X-King 2.4's.
Vital stats:
weight: 346g - less than the manufacturer claimed weight of 370g;
inflated width: 49mm (on Podium MMX rim);
inflated height: 43mm (on Podium MMX rim).
Obligatory picture on scale: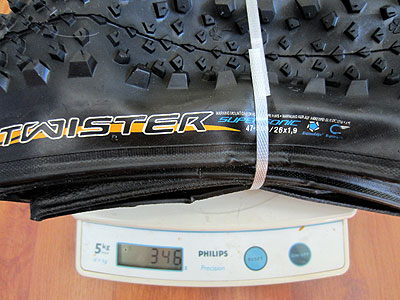 Picture of tyre mounted on Podium MMX rim: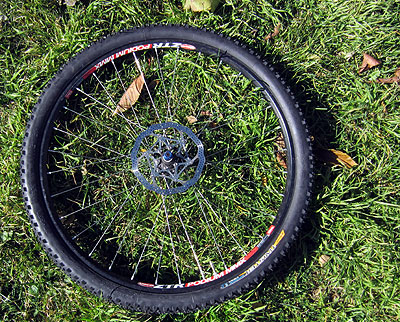 Twister and Race King 2.0 tread and width comparison - tyres are very similar in overall size but Twister has bigger side knobs that extend beyond the sidewalls. Race King 2.0 has narrower tread area that does not protrude beyond the side walls: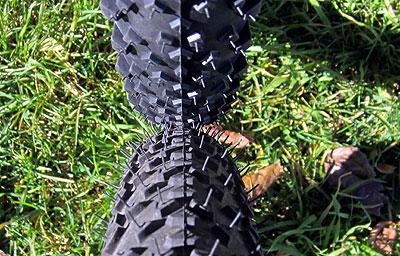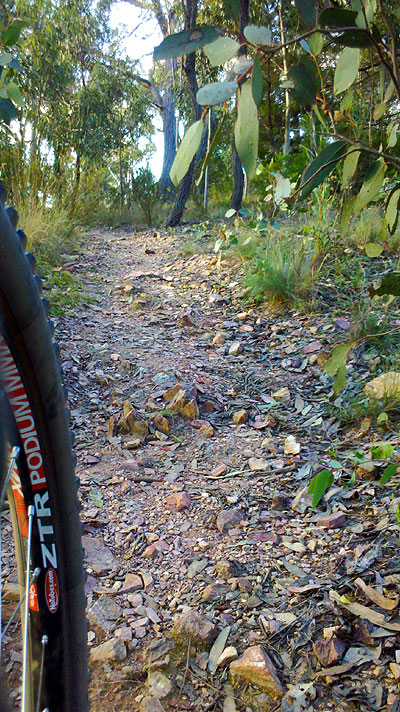 Ride impressions
I'm using the Conti Twister as a lightweight front tyre for XCM racing. My favourite front tyre for all round riding is the X-King 2.4 Race Sport version. It is a big volume tyre with nicely sized knobs and Continental's Black Chilli rubber compound which gives exceptional grip and life. The Conti Twister is certainly no X-King 2.4 in the grip and handling department, but its not half as bad as I was expecting for a tyre weighing 230g less. Viewed side by side with the X-King 2.4 it looks absurdly skinny, but out on the trails (hardpack, loose over hardpack, rocks) it hooks up surprisingly well. It doesn't inspire confidence like the X-King 2.4 and any spirited changes of direction mid corner will remind you that its a lightweight, fast rolling race tyre you've got on, but with that in mind, its cornering ability is good enough for XCM racing.
Currently I'm testing these at 25psi with a Conti "Light" tube (~150g). Anything above 30psi made this tyre feel unrideable on the front. Over the course of the ride I dropped the pressure gradually. 25psi is about as low as I can safely go and still ride aggresively. So far no pinch flats but I think with this pressure and a tube there will be no margin for error. Next I will set it up tubeless - probably the only way to safely run 25psi.
Further ride impressions
I've put several hard and fast rides on the Conti Twister as a front tyre and the more I get used to it the happier I am with it. I'm now running at 23psi and it feels great on the Podium MMX rim. At those pressures its feels grippy and well supported by the rim. I was worried that the lower pressure might lead to burping but so far its handled some big front end landings without complaint or air loss.