Claimed weight on these in 26" size is 340g. The two that I have weighed 352g and 353g.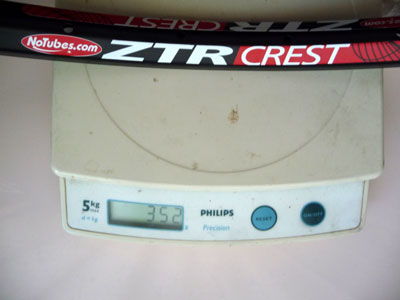 The rims do not have eyelet, are of a double wall construction and have very short sidewalls. This part of NoTubes' BST construction.
The rims look like they are rivetted and then welded.
What's the ERD?
I measured the ERD on these rims at 544mm using DT Swiss 12mm alu nipples.
The technique I use is to cut two spokes to 200mm exactly, then screw the spokes into the nipples I intend to use for the wheelbuild until the spokes have just reached the bottom of the slot in the nipple head. Insert these spokes into opposite holes on the rim and then measure the gap with a vernier. Add 400mm to the gap and you get the ERD.
How do they ride?
For a relatively lightweight rim, they build into a lightweight but stiff wheel . I laced these rims onto a set of A2Z hubs with DT Swiss SuperComp spokes. The wide internal rim cavity works nicely with both the Continental Race King 2.2 Supersonics and the Conti X-King 2.4 RaceSports .
Tuning potential?
Not much - pull the stickers off to save a few grams per wheel. If you want to save some weight, take your scale and buy them from somewhere that will let you weigh them. A number of others have reported weights in the low 340g's so the two I got are probably a bit on the heavy side.
For a much lighter rim, try the Podium MMX's (around 290g each).