With the demise of my A2Z rear hub imminent and a stack of Podium MMX rims at hand, it was time to experiment with a new rear wheel.
I ordered a Tune Kong rear hub and DT Swiss Supercomp spokes for the drive side and DT Swiss Revolution spokes for the non-drive side.
Spoke lengths
The ERD of the Podium MMX rims is between 544 and 545mm. Pretty much the same as the ERD for the Crest rims.
Putting the Tune Kong data into spocalc produced:
| | | |
| --- | --- | --- |
| cross | left length (mm) | right length (mm) |
| 0 | 245.8 | 243.9 |
| 1 | 248.1 | 246.2 |
| 2 | 254.6 | 252.8 |
| 3 | 264.0 | 262.2 |
| 4 | 274.7 | 273.0 |
For this build I decided to use 16 x 262mm DT Swiss Supercomp spokes on the drive side and 16 x 264mm DT Swiss Revolution spokes on the non-drive side.
Wheel build
The spoke holes in the Tune Kong hub are very close to 2mm and the flanges are wide. As a consequence, a far amount of force is required to seat the spoke elbows in the hub flanges. Once seated, the spokes do not move freely of their own accord, so need to be manually manoeuvred into direction and place to a far greater extent then when building with a hub with 2.5mm spoke holes.
Completed wheel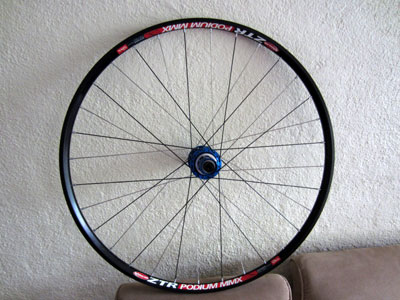 Total weight: 676g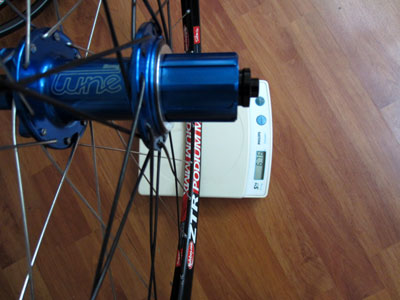 A little attention to detail never goes astray - valve hole lined up with the logo: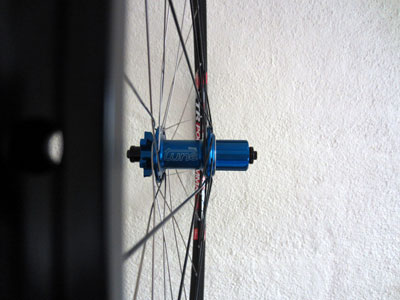 A2Z / Podium MMX / DT Swiss Revolution Front Wheel
For this front wheel I used the same spoke lengths as for my A2Z / Crest / DT Swiss Supercomp front wheel.
Finished weight came in at 567g.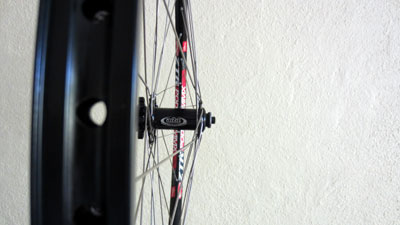 Total wheelset weight is 1243g.